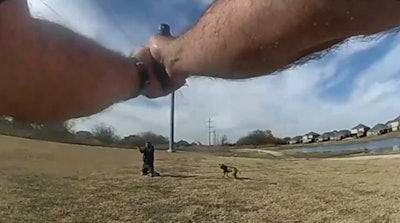 Just one day after his son, Mitchell Davis, was shot and killed by a Fort Worth police officer, Rob Davis said Wednesday he wants people to know about his son and expressed sympathy for the officers involved.
Davis said his 29-year-old son was a brother to his five siblings, an uncle and a friend to many. He also struggled with mental illness.
"We have worked relentlessly with him, with medical professionals and counselors. Our family has rallied around him," Davis said. "In the end, it was becoming overwhelming, and he was terrified he was going to hurt someone."
On Tuesday, Davis said Mitchell took his dog for a walk. While on that walk, he called 911. He told the dispatcher he had a "Glock", he was going to hurt someone and he felt like he was possessed.
Three officers responded.
In partial body camera footage that was released, Davis can be seen reaching into his pocket and pulling out what appears to be a gun and pointing it at officers, WFAA reports.
Rob Davis said his son had an Airsoft gun. "It looks like a gun," Davis said. "You would never be able to tell the difference."
"Our family is heartbroken for the officers," Davis said. "Our heart goes out because we have the deepest admiration and respect and appreciation for what law enforcement does."