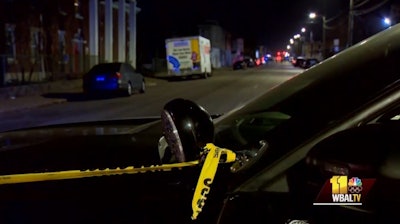 A Baltimore police officer—described as a devoted mother and grandmother—was ambushed in her patrol vehicle early Thursday is now on life support at an area hospital.
Friends outside the hospital and two police department sources identified the injured officer as Keona Holley, who is assigned to the Southern District, the Baltimore Sun reports.
Baltimore Police Commissioner Michael Harrison called the shooting a "brazen, cowardly act of violence." The officer was on duty, sitting in her vehicle when someone came up from behind and shot the officer multiple times, Harrison said. Initially, the emergency call came in as a crash, and it was then discovered the officer was shot, WBAL reports. The patrol vehicle crashed through a fence after the shooting, perhaps as the officer tried to escape.
Baltimore Mayor Brandon Scott released a statement Thursday morning, saying: "Early this morning, a Baltimore police officer was shot in the line of duty and is in grave condition at the University of Maryland Medical System Shock Trauma Center. My heartfelt prayers go out to the officer's family and fellow officers who selflessly risk their lives to safeguard our neighborhoods and build a better Baltimore. Whoever committed this heinous act is a coward who must be brought to justice for our officer, the officer's family, and our city. I have no doubt that our detectives will find those responsible, but we need anyone with information to come forward and share it with us now. No family should be dealing with this pain, especially during the holidays. As a city, we owe it to this officer to quickly bring those responsible to justice."
A $59,000 reward is being offered for tips leading to an arrest and conviction of the shooter. City police announced Metro Crime Stoppers is offering a $4,000 reward, the Bureau of Alcohol, Tobacco, Firearms and Explosives is offering a $10,000 reward, the FBI is offering a $10,000 reward, the Baltimore City Fraternal Order of Police is offering a $25,000 reward and the U.S. Marshal Service is offering a $10,000 reward.
Mayor Scott pleaded with members of the public to provide tips.
"We don't give a damn how we get it," Scott said.