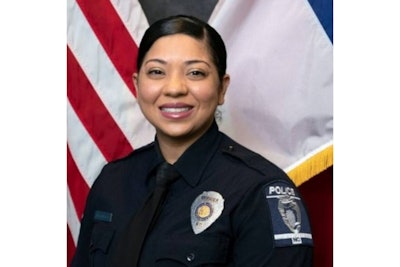 A Charlotte-Mecklenburg police officer was killed and three other officers injured early Wednesday in a crash involving two 18-wheelers on I-85.
Officer Mia Goodwin, 33, died in the line of duty around 3:40 a.m., Wednesday, the Charlotte Observer reports.
The trucks struck multiple CMPD cruisers, injuring Goodwin and three other officers who were helping direct traffic in the aftermath of an earlier accident, which happened Tuesday night and had closed down the interstate. The other injured officers were taken to a nearby hospital and later released, Chief Johnny Jennings said.
Goodwin was the last officer to arrive on the scene Wednesday morning in relief of co-workers who had been directing traffic at the accident scene since 10:30 p.m., Jennings said. She was de-clared dead at the scene. Afterward, a procession of police cars accompanied her body to the medical examiner's office.
"Today, Charlotte-Mecklenburg Police Department is hurting," the chief said. "We mourn the loss of a police officer ... a good, good one. And the profession hurts, our city hurts."
Officer Goodwin is survived by a Charlotte firefighter husband and three children, including a four-month-old. She had just returned to duty from maternity leave.