At the 2022 Shooting Hunting and Outdoor Trade (SHOT) Show held this week in Las Vegas ESS is introducing five new law enforcement eyewear products.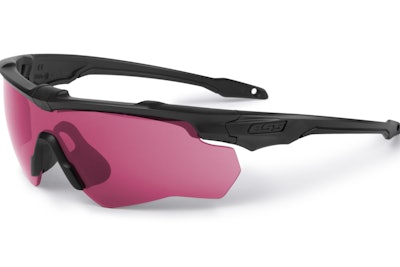 ESS CrossBlade Eyeshields with LPL-5 Laser Protective Lenses provide military-grade ballistic protection and can help prevent eye injury by blocking green lasers. Available as an accessory or full kit, ESS LPL-5 Lenses have an Optical Density (OD) of 2.5 that blocks 99.7% of 532nm wavelengths from visible green lasers. The lens tint's 48% VLT allows for optimum protection and operation versatility in both bright and low light conditions. For more information visit the ESS LPL Buying Guide.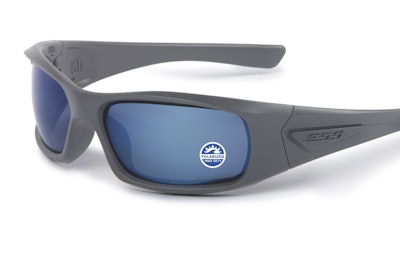 ESS 5B Sunglass
The ESS 5B is far more than just another sunglass. With ballistic high-impact lenses, universal-fit frames, distortion-free optics, and all-day comfort, the 5B is functional and fashionable. Designed to provide superior impact protection without interfering with your other gear, the 5B represents the culmination of years of intense listening to customer feedback. The ESS 5B has fixed-lenses (non-interchangeable) and offers a universal fit for both men and women. https://www.esseyepro.com/en_us/ballistic-sunglasses/5b-series/5b-heritage-matte-dark-gray-w-polarized-mirrored-blue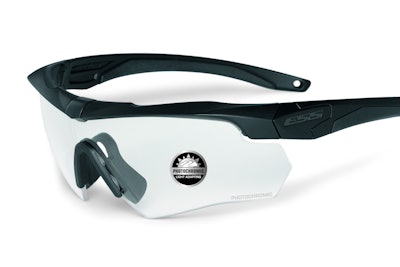 ESS Crossbow Photochromic Eyeshield
The ESS Crossbow Photochromic eyeshield is created using Transitions lenses and has redefined performance and utility for eye protection. ESS Photochromic lenses adapt rapidly to changing light conditions, 50% activation at 11 seconds and 90% activation in less than one minute. Visible Light Transmission (VLT) Range: 86%-24%. Its ClearZone FlowCoat technology minimizes scratches. The Tri-Tech Fit ergonomics offer comfort and stability with zero pressure points. Clear ESSOPTICS exceed rigorous standards, offering a true view of your objective. And the Crossbow's patented DedBolt Lens Lock pivots open for quick lens exchange or locks shut for rock-solid retention under impact. https://www.esseyepro.com/en_us/ballistic-eyeshields/crossbow/crossbow-matte-black-w-photochromic-gray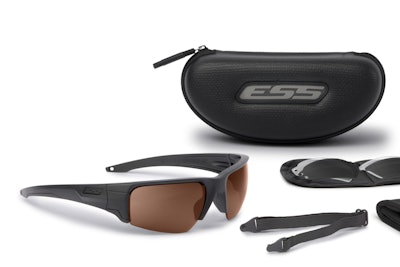 ESS Crowbar Tactical Kit
Balanced and lightweight, the ESS Crowbar sunglass delivers broad ballistic protection and crisp optical clarity. Featuring three interchangeable lenses: clear, smoke gray, and mirrored copper, the tactical kit is ready to suit any officer's needs, on or off-duty. https://www.esseyepro.com/en_us/ballistic-sunglasses/crowbar-series/crowbar-tactical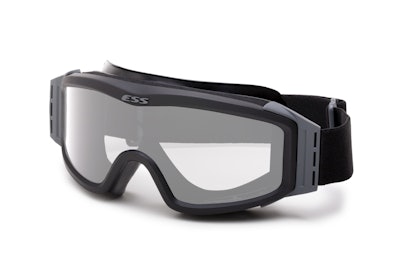 ESS Response Series
The ESS Response Series provides premium eye protection at an affordable price. Offered with a clear lens, these PPE configurations of ESS sunglasses, eyeshields, and goggles provide ballistic-rated eye protection for frontline workers for all types of applications. The ESS Response Series is for law enforcement, firefighters, and EMTs. Orders for large or departmental purchases are available. Contact the ESS Sales Team to customize a package of products.