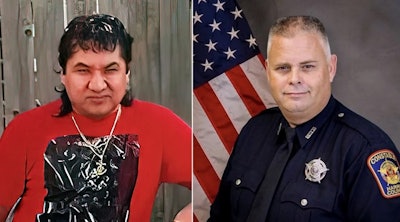 The suspect accused of killing Harris County Cpl. Charles Galloway earlier this week has been on the run since 1996 and is wanted for another murder in El Salvador, Harris County District Attorney Kim Ogg said Thursday.
Jose Oscar Rosales, 50, was arrested Wednesday in the Mexican border city of Ciudad de Acuña. Mexican law enforcement took him into custody before turning him over to U.S. authorities, Fox reports.
Speaking to reporters, Ogg described Rosales as a "professional criminal" who has been a fugitive for 25 years after a warrant was issued on an aggravated assault with a knife charge in Harris County. She said he is also wanted for murder in El Salvador – one of several countries where he has lived.
Ogg also said Rosales has "potential gang or cartel affiliation," but did not elaborate.
"The crime of capital murder can only end two ways: in the death penalty, or in life without parole. This case has all the earmarkings and is a death penalty case," Ogg said, clarifying that her office would weigh all the evidence as it works on the case.