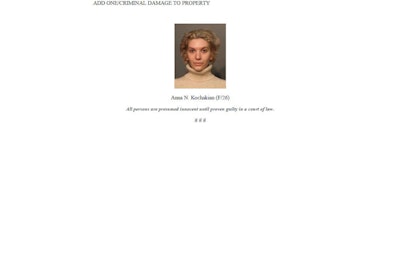 A Chicago woman has been charged with vandalizing a memorial to fallen Chicago Police Officer Ella French last August. French was shot and killed Aug. 7 during a traffic stop.
Illinois State Police announced Wednesday that Anna Kochakian, 26, has been charged with criminal damage to property for defacement of a police memorial – a Class 4 felony, CBS Chicago reports.
Videos on Twitter, which were posted to a page that has since been deleted, show someone attempting to knock over a memorial inside the Thompson Center with a "Back The Blue" wreath and photo of Officer French. That incident occurred one day after the murdered officer was laid to rest.
When the attempt to knock over the memorial was unsuccessful, the person filming grabbed the photo of French from the stand and balled it up while walking away.
On Wednesday, after a complete investigation, state police obtained an arrest warrant for Kochakian.
The offender was arrested using the handcuffs of Officer Carlos Yanez Jr., her partner. This was a moment of justice for Ella, her family, the Chicago Police Department and all those who knew and loved Ella. pic.twitter.com/9RIoKIFRCG

— Chicago Police Superintendent David O. Brown (@ChiefDavidBrown) February 9, 2022