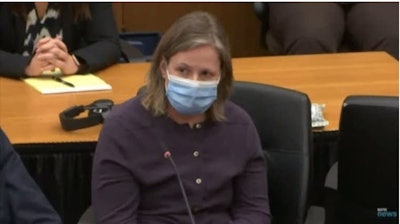 Former Police Officer Kimberly Potter was sentenced to 24 months, 16 months to be served incarcerated, in the shooting death of Daunte Wright last year. The judge said Potter will be given credit for 58 days already served and will pay $1,000 fine, plus a $78 surcharge.
Potter mistakenly drew her firearm thinking it was her Taser and fired, killing Wright.
Last December a jury convicted the former Brooklyn Center, MN, officer on first-degree and second-degree manslaughter in the April 11 killing of the 20-year-old during a traffic stop. The 26-year-veteran police officer was sentenced on first-degree manslaughter, a charge where the upper end of the guidelines can bring a sentence of more than eight years.
The court Friday morning heard Wright's family deliver victim witness impact statements that were followed by tearful apologies to the family and the community by Potter.
"I pray for Daunte and all of you many times a day. He is not one thought away from my heart," Potter said as she wept. "And I do pray that one day you can find forgiveness only because hatred is so destructive to all of us."
Hennepin County Judge Regina Chu admitted that the sentencing was an "extremely difficult decision."
"This is a cop who made a tragic mistake," Chu said during the sentencing. "She drew her firearm thinking it was a Taser and ended up killing a young man."
Chu said the trial evidence left it undisputed that Potter never intended to use her firearm and that the scene was "chaotic, tense and rapidly evolving … officer Potter was required to make a split-second judgment," a mitigating factor in her lower sentence, MPRNEWS reported.
The judge made it clear this case was different than the Minneapolis police killing of George Floyd in 2020 and the 2017 killing of 911 caller Justine Ruszczyk. In those cases, officers received longer sentences.
The judge discussed aggravating factors that the state used to request a harsher sentence than found in sentencing guidelines.
The judge said the first factor was based on whether Potter caused a "greater than normal danger to the passenger in the car and the two other officers when she fired." Chu said the state's case did not support this position.
The judge also said the state did not meet it's burden of proof on the second factor. She said contrary to the state's claims, Potter did not abuse her position of authority. Chu said it is undisputed she was in the line of duty and doing her job in an attempt to lawfully arrest Wright when she mistook her gun for her Taser. The judge said Potter acted to protect the officer on the other side of the car and he could have been injured if Wright had driven away.
Before sentencing, the judge discussed four considerations - retribution, incapacitation, deterrence, and rehabilitation – used when determining incarceration.
"Three of the four would not be served in this case," Chu explained.
She said incapacitation is the physical removal of an individual so they will not commit future crimes. Chu said that is not needed in this case with Potter.
The purpose of deterrence and rehabilitation would not be served in the case of incarceration either, the judge added.
"Potter does not require serving time to make her become a law-abiding person," Chu said.
But, the judge did say the fourth sentencing consideration is applicable.
"Retribution, or serving time as a way for a convicted person to pay for the harm inflicted on a victim, is the sole purpose that applies in this case," Chu said. "In this case a young man was killed because Officer Potter was reckless. There rightfully should be some accountability."
Related Podcast: How Could a Veteran Officer Mistake a Duty Pistol for a TASER?