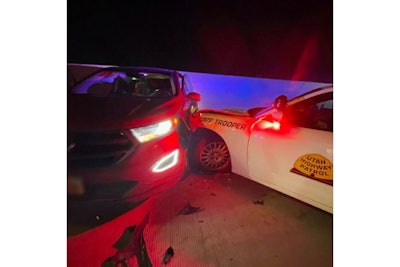 A Utah Highway Patrol Trooper was injured early Sunday morning when he used his patrol vehicle to stop a wrong-way driver
At about 4:18 a.m. troopers responded to a call about a wrong-way driver in a red SUV on I-15.
Trooper Devin Henson located the vehicle. The SUV attempted to swerve around Henson's patrol car, Utah Department of Public Safety said on Facebook. "The front of the trooper's car made contact with the driver's side of the SUV where it was stopped in the HOV and #1 lane," DPS said.
Henson suffered minor injuries in the crash and was treated and released at a local hospital.
"The driver of the wrong-way vehicle was treated at the scene and arrested and booked into jail for suspicion of DUI," DPS said.
On Twitter Governor Spencer Cox praised Trooper Henson's quick response and courage.