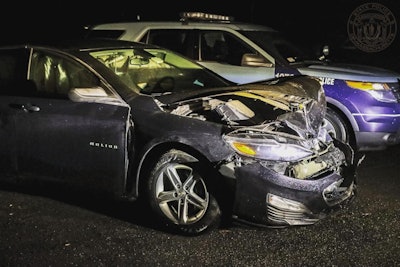 A Massachusetts state trooper was injured Tuesday evening while driving home when a suspected impaired driver struck his vehicle head on in Marshfield.
The trooper's name has not been released, but according to the State Police Association of Massachusetts, he has more than 10 years of service and is assigned to the H-Troop Detective Unit.
"His injuries are thankfully considered to be non-life-threatening; however he is still hospitalized at this time," a statement from the association said.
The man who struck the trooper's vehicle was arrested by Marshfield Police and charged with driving under the influence and other related charges. He was released a few hours later on $240 bail, the association reports.
"Our thoughts this morning are with our trooper, his wife, his young children and their family. This incident yet again reminds us of the dangers our members face daily while serving the Commonwealth. Our message to the public this morning is simple. Drive sober - there is no excuse," the association statement said.