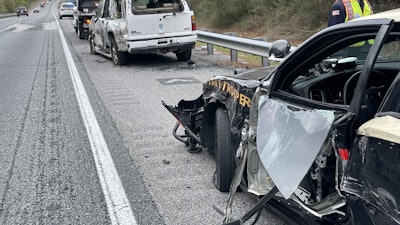 A Florida Highway Patrol trooper was seriously injured, after a truck crashed into his patrol car and an SUV Monday morning on Interstate 10 in Okaloosa County, according to FHP.
The 46-year-old trooper was on patrol on I-10 when he noticed a white SUV abandoned on the side of the road, FHP told WCTV.
The trooper parked his patrol car behind the SUV activating his emergency lights to investigate it.
FHP says a 40-year-old man was driving a truck eastbound on I-10 around 11:30 am. when he swerved off the roadway, sideswiping both the patrol car and the SUV.