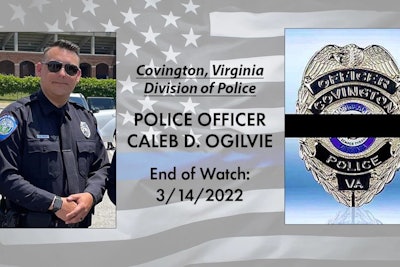 Covington, VA, Police Chief Christopher Smith has released the name of a police officer killed in the line of duty Monday evening during an incident at a local farm store and gas station.
"Officer Caleb Ogilvie, 35, was shot and killed while responding to a domestic shooting at the Covington Farm and Fuel Monday afternoon. On behalf of the City of Covington Police Department, I want to express my gratitude for the incredible outpouring of support from the residents of Covington and Alleghany County," the chief wrote on Facebook.
Ogilvie was also an active volunteer with Roanoke County Fire & Rescue from 2011-2016, the department told WDBJ.
Ogilvie was one of several officers responding to the shooting at the store.
Police say Toney S. Poulston, Jr., 42, shot and killed his stepfather Randall Lee Paxton, 64. Poulston then walked out of the store where he encountered responding law enforcement and shots were exchanged. Both Officer Ogilvie and Poulston were killed in the shootout.
A FundtheFirst campaign has been set up to take donations for Officer Ogilvie's family.