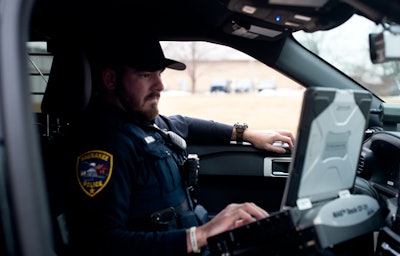 When siblings enter law enforcement, they are often part of a policing family and policing is in their blood.
But the Flora brothers hailed from a family of teachers—and it was assumed the Wisconsin natives would be teachers, too. But Landon Flora forged a new path in law enforcement that his brother, Mitch Flora, followed four years later.
Landon likes to say that his brother looked up to him—and Mitch admits it did factor into his decision. But what really convinced him to enter policing was an internship with the Monona (Wisconsin) Police Department, where Landon worked.
Though the siblings specialize in law enforcement, their jobs differ. Landon began his call of duty as a patrol officer for the Monona PD. He now works the day shift as a community relations officer in Monona, which has a population of 8,624 people.
"The meat and potatoes of my job is community outreach," says Landon. "But I still work patrol, assist detectives with investigations, respond to calls when officers need help, and conduct field training."
Mitch, who entered the profession four years after his brother, works nights as a patrol officer for the Waunakee (Wisconsin) Police Department. In this role, he patrols the village, population 14,879, handling everything from domestic abuse and robbery calls to traffic stops.
"I never know what I'm going to encounter on a shift," he says.
Though their law enforcement positions vary, both say they demand tough, rugged, weatherproof, shockproof, and dependable equipment. They also admit that they could not do their jobs without a watch.
G-SHOCK understands that no matter the assignment, every officer requires a dependable timepiece. The company recently introduced the G-SHOCK Mudmaster GWG2000, which some reviews refer to as "G-SHOCK's most extreme watch yet." This heavy-duty timepiece, made of forged carbon—a material used in aircraft or racing cars, is mud- and dust-resistant, and waterproof too, to hold up to law enforcement's rigorous demands.
Caring for the Community
A community relations officer's workday looks different every day, reports Landon, who transitioned into the role in January.
He describes himself as a "five-tool player." He works patrol, conducts field training, assists detectives with cases, helps officers as needed, and delivers community outreach. In this role, he collaborates with different groups and area public safety agencies to deliver law enforcement services at city events, from the Polar Plunge, a major event where participants jump into frozen lakes, rivers and streams to raise money for the Special Olympics, to Shop with a Cop, where officers' shop with underprivileged children.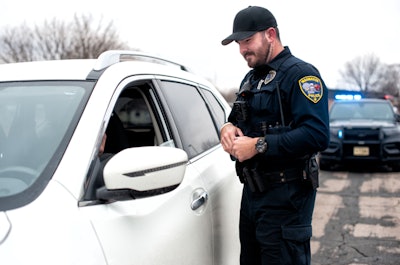 Whatever the event, the goal is always the same. "I'm in the community to meet people. I interact with different people all day, every day. Many interactions happen on nights, weekends, and holidays, rather than the traditional Monday through Friday," he says.
With that much going on, Landon needs a dependable timepiece. His watch alerts him of any meetings on the schedule, but also has become an indispensable part of his field training efforts.
"I ride with our newest hires and go out to every call for service," he says. "I evaluate their performance, provide positive feedback and constructive criticism, then I complete daily observation reports and training sheets to keep in our records."
Landon calls a watch "imperative" whether he's field training, assisting other officers, or visiting the community.
"There was one day in my career where I forgot my watch and I decided that will never happen again," he says. He owned a G-SHOCK already and purchased a second one for his locker just in case he forgot again.
His G-SHOCK GWG2000 offers a five-day alarm with snooze function, an optional hourly beep, an automatically adjusting calendar, and a battery level indicator with auto power save, all of which are extremely useful in his role. Landon uses his watch for timekeeping, especially in his new role, where he must attend meetings throughout a shift. But, he adds, a watch also helps him document and timestamp events, like a search warrant, a blood draw, or the time it takes a recruit to complete a task during field training.
Protection on Patrol
In Waunakee, Mitch begins each shift largely the same way. The day and night shifts overlap to allow time for officers to share key details about the previous shift and recommend follow-up for incoming officers. He checks his equipment and patrol vehicle to make sure both are operational, then he's ready to roll.
"First, I take a drive through the entire village so that I am seen," he says. "People like to know that we're watching everything."
As darkness engulfs the city, all bets are off. Mitch may stop a speeding vehicle or get called to a crash with injuries. Later, he may respond to a domestic or a burglary.
"Every night it's different. I try to eat around 8 or 9 p.m., but sometimes I don't eat at all," he says.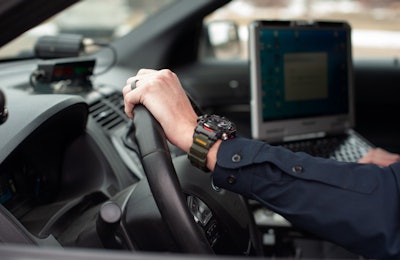 Mitch relies on his watch for every call and in every season. He explains he may stop traffic in sleet or snow, bitter cold, torrential downpours, and extreme heat and humidity. "My watch needs to stand up to every condition," he says.
He admits he once switched to a smartwatch. But he quickly learned ready access to texts and email provided too many distractions. Worse, he says, "I've already ruined one of them, when I hit it on a doorframe and it cracked the screen," he says. "But I've slammed my new watch the G-SHOCK Mudmaster GWG2000 into a door and nothing happened."
Mitch explains a functioning watch is vital on patrol. When a driver appears impaired, there's an exceedingly small window for sobriety tests and just three hours to obtain a warrant and get a blood draw.
"If I don't note the time, the waters can get very muddy," he says. "Knowing the time is important. It's also critical when a child or elderly person wanders off. I need to know how long they've been outside. I cannot have my watch fail on duty."
Timepieces to the Test
Landon and Mitch both wear G-SHOCK Mudmaster GWG2000's on duty. The watch's forged carbon construction gives it a tensile strength that's stronger than stainless steel, yet lightweight and malleable.
G-SHOCK sealed the counter casing to make it mud and dust resistant, and it's waterproof, up to 200 meters. They made the watch bezel from highly scratch resistant synthetic sapphire, finished with an anti-reflective coating to preserve legibility.
The duo appreciates the ruggedness of the watch, but also its features, which they report are easy to operate. They say the GWG2000's oversized mud-resistant buttons, which use stainless steel and an internal silicone buffer to keep dirt out, are easily operated with and without gloves.
The GWG2000 also features a digital compass, barometer, altimeter and thermometer, and supports 29 time zones using radio wave reception to deliver the most accurate time possible.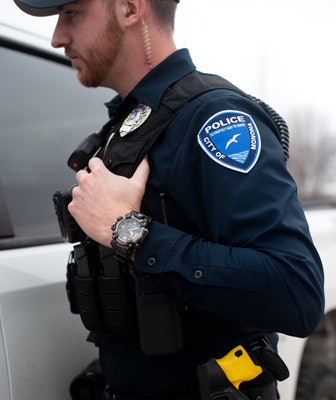 Both Mitch and Landon appreciate the temperature function, which they say comes in handy on calls for service. "If an elderly person gets lost, and it's negative 10 degrees outside, it's good to document that. It's also good to know the temperature at a traffic stop," Mitch says.
Landon agrees. "We have many calls where knowing the temperature and the weather are relevant. In a mental health call where someone is not dressed appropriately for the weather, or a traffic stop in January, where the driver is sweating profusely, it's important to note the temperature."
Both agree a compass also comes in handy on the job. When working within the city limits, these officers always know where they are. But often they respond to calls in communities they are unfamiliar with or in rural areas where it's easy to get turned around. Mitch also says a compass is useful when investigating something in large, unfamiliar buildings.
"When involved in a pursuit in an unfamiliar area, it's beneficial to look at my wristwatch to see the direction I'm headed," Landon says. "It's easy to get turned around when you're in areas you haven't been in before. And it's imperative to relay to other officers the direction you or the suspect are headed."
They both call the LED light on the GWG2000 indispensable. "I like the light on this watch," says Landon. "It really lights up the screen. My old duty watch had a function where it would automatically light up in dimly lit situations, but you turn this one off and on. I appreciate that feature. If you're in an unmarked car, working in the hours of darkness, you don't want a self-illuminating watch. You want to turn it on when you need it."
Stylistically, the GWG2000 mimics the design of the GWG1000, with a similar dial layout and slightly smaller dimensions of 61.2 by 54.4 by 16.1 millimeters (versus 59.5 by 56.1 by 18 mm for the GWG1000). Still, Landon and Mitch say it is a sizable watch that takes some getting used to.
That being said, Mitch says the size helps on patrol, because the watch sticks out between his gloves and his sleeve, so he always has access to it. "With my other watch, the sleeve would slide over it. Then I had to pull up my sleeve to view the watch face," he says.
The brothers report they always wear their watches off duty, whether they're playing a round of golf or are out hunting. They recently tested their GWG2000s on a coyote hunt, where they exposed them to heavy snow and severe cold, and note they operated flawlessly.
"Knowing the barometric pressure can be important in law enforcement, but it's also critical to know while hunting," Landon adds. "Animals move a lot when the pressure is up. I use this feature on and off the job."
Every law enforcement officer needs a quality timepiece that stands up to the rigors of the job. The G-SHOCK Mudmaster GWG2000 is a timepiece that covers all policing roles from patrol to community relations and everything in between.