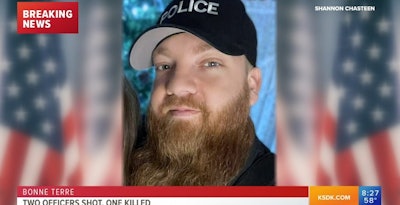 A Bonne Terre, MO, police officer was killed and another officer was critically wounded after a man opened fire at a motel overnight. The suspect is also dead according to Missouri State Highway Patrol.
MSHP said two Bonne Terre police officers responded at the Motel 6 on Highway K just before 12:30 Thursday morning for a report of a disturbance. As they approached the hotel room a man came out and started firing at the officers.
The officers fired back, killing the suspect, said MSHP. The man was identified as 21-year-old James Emery of St. Louis, the Associated Press reported. Both officers were also hit by gunfire, KSDK reports.
One of the officers was taken to a St. Francois County hospital where he died of his injuries. He's been identified as Patrolman Lane Burns.
The other officer was airlifted to a hospital in St. Louis in critical condition with a gunshot wound to the leg. At last check Thursday morning, he was in surgery. He's been identified as 27-year-old Cpl. Garrett Worley. He's been with the department for seven years.