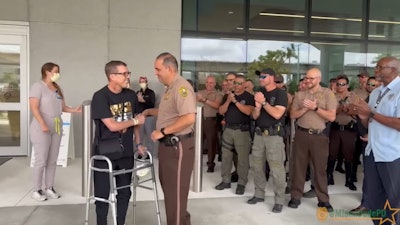 Miami-Dade Police officer Frank Sanguinetti returned home Tuesday after recovering from a double-lung and kidney transplant while battling COVID-19. He was greeted by a large gathering of his law enforcement peers when he exited the hospital.
Sanguinetti was discharged from Christine E. Lynn Rehabilitation Center for The Miami Project to Cure Paralysis at UHealth/Jackson Memorial after spending more than six months in the hospital recovering from COVID-19 and the transplants, LOCAL10 reports.
Sangineto was taken to Jose Milton Memorial Hospital at Jackson West Medical Center Aug. 17 of last year after contracting COVID. His condition worsened, and he was ultimately intubated and placed on a ventilator. But the ventilator support was not enough to keep him breathing.
A week later, Sangineto was transferred to Jackson Memorial Hospital and placed on an ECMO machine, which pumps blood outside of the body to an oxygenator that removes carbon dioxide and sends oxygen-filled blood back to internal tissues. Due to the permanent damage caused to Sangineto's lungs during his COVID battle, he needed a double-lung transplant to safely leave the hospital.
Sangineto, who serves in the K-9 unit with the department, said the hardships of the job are no comparison to his fight against COVID-19.
"I was in the Marines, I did the police academy and this is the toughest battles I've ever had," he said in an interview with NBC6 in January after the transplant.
We are honored to share that Officer Frank Sangineto's double lung and kidney transplant was a success. On behalf of Officer Sangineto and his family, we would like to thank the community for their outpouring support! Learn more about his road to recovery: https://t.co/LovFqiMQsa pic.twitter.com/T2hKEB9F58

— Miami-Dade Police (@MiamiDadePD) January 9, 2022