The NYPD has released video of the moments following a child's fall from a sixth floor window in the Bronx.
Body cameras captured officers responding to the scene, then rushing the 4-year-old boy to the hospital.
The boy survived the fall from the Patterson Houses NYCHA (New York City Housing Authority) complex. He was alert but crying and appeared to sustain a leg injury, ABC7 reports.
"When a 4-year-old boy fell out of a 6th-floor window in the Bronx yesterday, residents tending to the boy immediately called 9-1-1," the NYPD tweeted on Wednesday. "In a coordinated effort by the residents, EMS, and officers from @NYPDPSA7, the boy was rushed to the hospital & is currently in stable condition."
Officers drove him to the emergency room in a police van.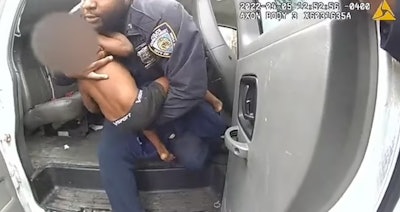 It appears the child fell between a gap in the window created by an air conditioner.
A NYCHA official who has seen photos of the apartment says there are window guards in all the other windows in the apartment, as required, and the air conditioner remains in the window where they believe the child fell.