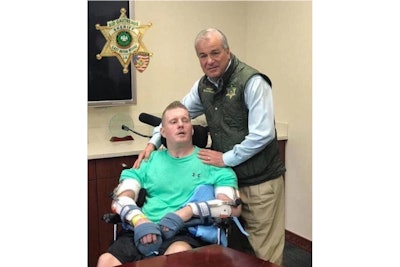 Longtime East Baton Rouge Parish sheriff's deputy Nick Tullier, wounded six years ago in an ambush on law enforcement officers following anti-police protests over the fatal shooting of Alton Sterling, died Thursday, his family said. He was 47.
East Baton Rouge Parish Sheriff Sid Gautreaux said he was heartbroken to learn of the death.
Tullier was drinking coffee with a fellow deputy, Sgt. Bruce Simmons, the morning of July 17, 2016, when a call crackled over the radio: Shots fired, officer down. The two deputies raced to the B-Quik convenience store on Airline Highway, where a lone gunman was shooting police and deputies.
Tullier spotted the gunman's car, a rented Chevy Malibu with Missouri tags, and was running the plates when the gunman opened fire on him with a rifle. One round struck Tullier in the stomach and a second hit him in the head, shattering his skull and damaging his brain. A third bullet struck Tullier in the shoulder.
Three other officers died in the attack: Deputy Brad Garafola and Baton Rouge policemen Montrell Jackson and Matthew Gerald.
The gunman was killed by law enforcement.
Tullier worked as a patrol deputy with the East Baton Rouge Parish Sheriff's Office for nearly two decades.