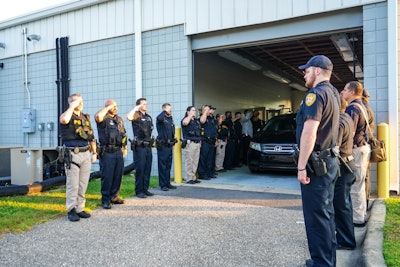 A Tallahassee (FL) police officer died early this morning when a shooting suspect drove head-on into traffic and collided with his patrol vehicle. The officer was transported to the hospital, where he later died from his injuries.
According to the Florida Police Benevolent Association Big Bend chapter, the 34-year-old officer had been on the Tallahassee police force for four years. He previously had served at Wilton Manors Police Department in Broward County.
"This tragic loss is a painful reminder that law enforcement officers are often victims of violent criminal acts and they put their lives at risk on a daily basis to serve and protect others," Richard Murphy, president of the PBA chapter, tells the Tallahassee Democrat.
In a statement, the Tallahassee Police Department reported the Leon County Sheriff's Office received a call about an assault inside an area home about 12:27 a.m. Police say 37-year-old Tyrone Cleveland, entered the home, where he resides, and shot three family members and then fled in a vehicle.
A Leon County deputy and a Tallahassee officer encountered the vehicle, driven by the suspect. The suspect then turned his vehicle around and began traveling toward oncoming traffic and collided with the TPD officer's vehicle at an intersection.
All the shooting victims were transported to the hospital. Police say two of them suffered non-life-threatening injuries and the third is in stable condition. The suspect was also taken to the hospital with non-life-threatening injuries and is facing numerous charges.