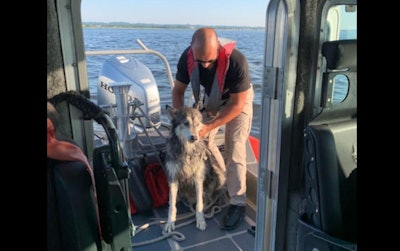 The Monmouth County Sheriff's Office (NJ) made an unusual water rescue over the weekend after they reported finding a dog-paddling Siberian Husky a mile-and-a-half out in the bay off Union Beach.
The sheriff's office learned Caiden, a 10-year-old Siberian Husky, had become separated from his owner and began trying to find the canine. Michael Forgione and Kasey Collins, of the department's Marine 1 Unit, found Caiden in distress after the long swim.
Once the sheriff's officers located Caiden, they brought him on board and navigated shallow waters to reunite him with his grateful owner.
In addition to the canine rescue, the Marine 1 Unit also observed a brush fire that started due to the fireworks and were able to assist in navigating fire personnel to the blaze.