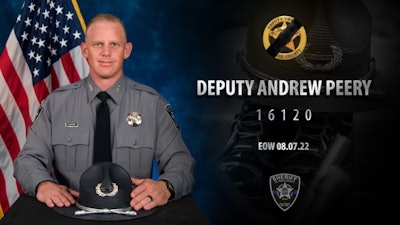 An El Paso County, CO, deputy sheriff was shot and killed Sunday afternoon after responding to a 911 call and immediately being met with gunfire upon his arrival.
Deputy Andrew Peery, a 39-year-old six-year veteran of the El Paso County Sheriff's Office, died after being shot.
El Paso County Sheriff Bill Elder tells 11NEWS a 911 caller had reported a shooting and additional callers reported hearing gunfire in the same area.
"Two of our deputies, alongside a Fountain police officer, arrived on scene almost simultaneously. As soon as they arrived, they were immediately met with gunfire," says Elder. "Our deputies returned fire with at least one round, and after additional personnel arrived on scene, they immediately rendered aid and life-saving measures."
Despite efforts to save Peery, he did not survive. He leaves behind a wife, Megan, and two children.
The Colorado Springs Police Department is the lead agency investigating the shooting. Following the shooting, lookouts were issued for a 33-year-old man suspected in the shooting, however he was later found deceased.