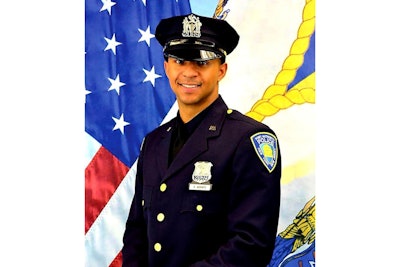 Former Major League Baseball pitcher and Port Authority Police Officer Anthony Varvaro was killed Sunday in a crash while driving to a 9/11 Memorial.
Varvaro—who was a relief pitcher for the Atlanta Braves, Boston Red Sox, and Chicago Cubs—left baseball five years ago for a career in law enforcement. He told ESPN at the time, "I was coming off my second elbow surgery and I didn't really know what direction my baseball career was headed," he said. "I came to a crossroads where I had to decide if I wanted to keep on playing or move on to a second profession."
Upon graduating the Port Authority of New York and New Jersey Police Academy, he was granted a post upon request at the 9/11 Memorial & Museum in Lower Manhattan, SILive reports.
Said Varvaro at the time: "To be able to work at that specific location, going back to the day of September 11, 2001, I feel like I'm honoring everyone who lost their lives that day."
Varvaro was killed Sunday after his car was struck by a wrong-way driver along the New Jersey Turnpike.
He is survived by his wife and four children.
For his major league career, Varvaro pitched 183⅔ innings in 166 games, compiling a 3.23 ERA, 150 strikeouts and one save.
In 2016, he appeared in 18 games for Boston's top minor league affiliate before retiring in June and beginning his police training, the Associated Press reports.