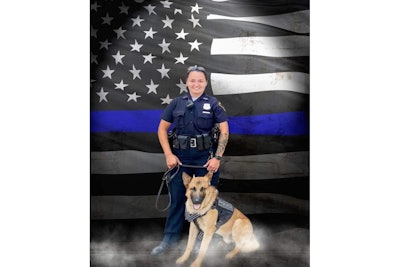 Richmond (IN) Police Officer Seara Burton died Sunday night, more than five weeks after she was critically wounded in a shooting, Richmond Police Chief Michael Britt announced.
In a statement, Britt said Burton died at 9:59 p.m. at Reid Health surrounded by her family. Funeral arrangements are pending and will be announced when details are available, Britt said.
Burton was taken off life support on Thursday, Sept. 1, after being shot during a traffic stop. Burton was transferred to hospice care on Sept. 3, Fox 59 reports.
Burton, a K-9 handler for the Richmond PD, was shot and critically wounded Aug. 10 during a traffic stop of a man driving a moped. She was shot after her dog alerted on narcotics.
The suspect charged with her shooting, 47-year-old Phillip M. Lee of Richmond, is being held on a $1.5 million bond at an Indiana jail, WWNY reports