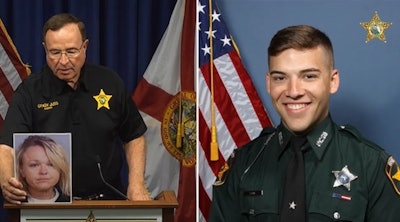 A 21-year-old Polk County (FL) Sheriff's deputy was shot and killed early Tuesday morning during a warrant service operation. Sheriff Grady Judd said in an afternoon press conference that Deputy Blane Lane was hit when fellow deputies fired on the suspect.
Deputy Lane and three other deputies were serving a failure to appear warrant in Polk City around 3 a.m. when the incident occurred.
Lane had taken a "tactical position" outside of the suspect's mobile home. Two other deputies had confronted the suspect who pointed a pistol at them.
When the deputies opened fire on the suspect, Cheryl Lynn Williams, she was hit twice but one of the rounds passed through the exterior wall striking Deputy Lane in the shoulder. It was discovered at the hospital that the bullet traveled into Lane's chest cavity and he died.
Sheriff Judd said the gun Williams, 46, reportedly pointed at the deputies was a replica "BB gun." He said he thinks she was attempting to commit "suicide by cop."
Williams was transported to the hospital. She is expected to survive. Judd said she will be charged with second degree felony murder. She was originally wanted for failure to appear on possession of methamphetamine.
The sheriff said Williams had served nine years in Florida state prison for meth trafficking. He also said she had a long history of felony charges.
"It is our goal to see that she's incarcerated for the rest of her natural life," Judd said.
"She created this entire event," Judd added. "She forced the shooting."
Deputy Lane was the father of a three-year-old child.
Judd said the deputy had only eight-and-a-half months of experience on patrol. "He performed at a high level," the sheriff said. "He was professional in every sense."
The shooting is under investigation by a multiple jurisdiction team.
"This is a dangerous job," Judd said. He added that Deputy Lane did "exactly what he should have done" by taking a position to prevent the suspect's escape out of the mobile home and to prevent anyone else from coming in.
"This is a dangerous job," Judd said several times during the press conference.
He said Polk County deputies are devastated by the tragedy.
"Words can't adequately explain our grief," the sheriff said, adding, "For me, this is like losing one of my own children."