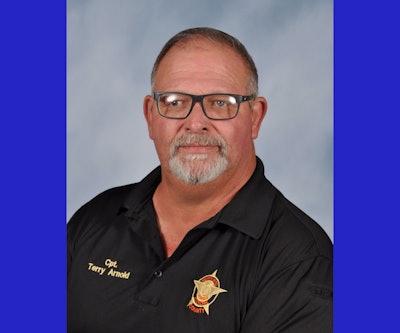 A Georgia school resource officer suffered an apparent fatal heart attack after breaking up a fight between two high school students Monday. He is the first recorded duty death in the history of the Cook County Sheriff's Office.
The Cook County Sheriff's Office announced the passing of Capt. Terry Arnold, who had just completed his 26th year at the department. He was the director of the School Resource Officers Division for the sheriff's office and the Cook County School System.
The sheriff's office reports Arnold, with the assistance of school administration, had taken a juvenile involved in the fight into custody and was exiting the main entrance of the school when he collapsed. School medical personnel and responding backup officers immediately rendered aid until the arrival of emergency medical services.
Arnold was transported to South Georgia Medical Center where he was pronounced deceased a short time later. He is survived by his son, four daughters, 10 grandchildren, countless friends, family, coworkers, and colleagues.
Before joining the sheriff's office, Arnold worked for the City of Adel and City of Remerton police departments.