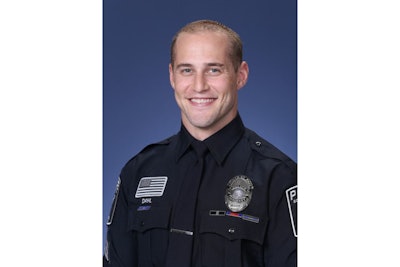 Last week a South St. Paul, MN, police officer was working out at a Roseville gym when he saw that another customer was in medical distress.
When the man collapsed to the floor of Timberwolf Crossfit and had no pulse, Sgt. Michael Dahl administered CPR and called out for an AED, the South St. Paul Police Department said on Facebook.
The AED was delivered and Dahl used it to shock the Pat Vermilyea heart back into rhythm.
Sara Vermilyea, Pat's daughter, told KARE that her father is recovering at the hospital, but in good spirits. She said doctors don't suspect it was a heart attack, but a sudden cardiac death — a situation in which the heart just stops beating unexpectedly.
She said her father has had heart issues before, including a triple bypass several years ago, but had been symptom-free and healthy since then.
Vermilyea said she's just glad Dahl was there to make sure her father was going to be around for some really big moments next year.
"I'm getting married in May, and my sister is also getting married next year," she said. "He gave us that gift of my dad being there."
Sgt. Dahl told KARE, "Right place, right time, my training just kind of kicked in. Just what we do everyday, so I'm very happy I could be in that position for Pat."