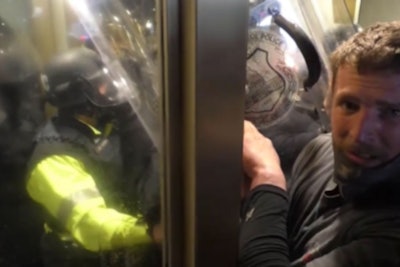 A Tennessee man who admitted to dragging Washington, D.C. Metropolitan police officer Michael Fanone into a violent mob outside the U.S. Capitol on Jan. 6, 2021, was sentenced Thursday to 90 months in prison.
Albuquerque Head, 43, pleaded guilty in May to assaulting the officer, CBS reports.
The government said Head, wearing a camouflage "Trump 2020" hat, made the deliberate choice to grab a riot shield to wield against an outnumbered line of law enforcement officers and push forward to the front of the mob. And as the officers finally pushed the rioters out of the tunnel — where many of the most violent attacks on officers were committed — Head turned to Fanone.
In their own pre-sentencing memorandum, prosecutors said as the crowd retreated, Head "wrapped his arm around Officer Fanone's neck and emitted a sickening yell to his fellow rioters — 'I've got one,'" dragging the officer into the mob.
The rioters beat and kicked Fanone, snatching his Taser and repeatedly shocking him with it, Fanone's body camera shows. The officer suffered a heart attack and a traumatic brain injury, the Washington Post reports.
Fanone testified during Thursday's hearing that he was injured and traumatized by Head's actions and advocated for Head to receive the maximum penalty for his crime.