Polk County (FL) Sheriff's deputies used a PIT maneuver early Sunday to end a pursuit involving a suspected arsonist. Authorities say the armed man ran from his vehicle and was shot and wounded.
According to Polk County Sheriff Grady Judd, a 911 call came into the agency shortly before 8:15 a.m. about a man throwing Molotov cocktails onto the roof of a Lakeland home.
Judd said in a press conference the same suspect had earlier that morning tried to burn a nightclub with a thousand people inside attending a concert.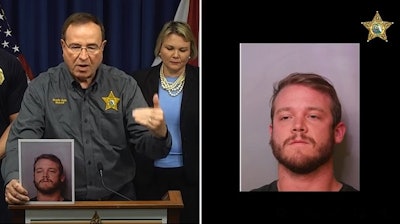 The first deputy to arrive at the firebombing of the house says he saw Luke Neely, 30, throw one of seven Molotov cocktails. He says two exploded on the house and the others rolled down and ignited the yard.
The deputy commanded Neely to stop, but he jumped in his car and fled the scene.
Polk deputies performed a PIT maneuver and caused Neely to crash. A deputy suffered a broken hand in an earlier attempt to end the pursuit with a PIT, Fox 13 reports.
According to Sheriff Judd, Neely ran from his vehicle with an AR-15 with 57 rounds of ammunition. Judd says Neely also had a fully-loaded handgun on his hip.
Three deputies opened fire at Neely when he began to run, striking him twice in the right leg, once in the left leg and once in the groin.
"We changed the looks of his groin forever if you know what I mean," Judd said.