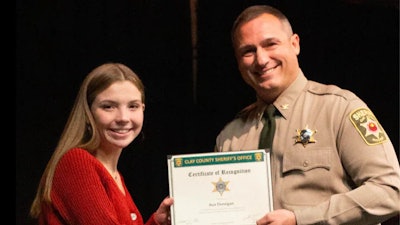 A Missouri teenager who helped tie a tourniquet on an officer who was shot in the line of duty in October was honored for her bravery this month.
"When the officer said, 'Can you help me with my tourniquet?' I was like, 'Absolutely, I can help you with your tourniquet.' It was really useful to have that knowledge from my dad," 17-year-old high schooler Ava Donegan told reporters of the October incident when she jumped into action to help Excelsior Springs officer Andrew Stott. Her father is a critical care nurse who taught his family how to properly use a tourniquet, the Courier Tribune reported.
Donegan and her friend were on a shopping trip and were stopped at an intersection in Excelsior Springs on Oct. 1 when Donegan saw Stott get shot twice by a suspect with a warrant out for his arrest, according to the authorities.
"Officer Stott ran to the vehicle Ava was in after he got shot. She did not know whether more bullets would fly, but she could see he needed help. He had been shot in the right arm and the left hand. Officer Stott pointed out where his tourniquet was on his outer carrier vest. Ava helped him retrieve it and put it on his wounded right arm," the sheriff's office posted on Facebook of the incident.
The suspect in the shooting, Carl Carrel, was fatally shot by other police officers following Stott being shot. The Clay County Prosecutor's Office is now investigating the incident, according to the sheriff's office.