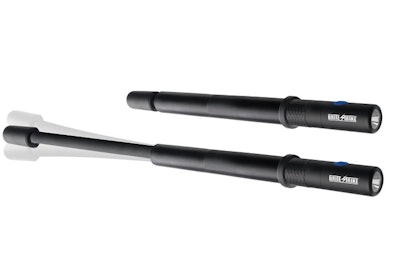 Batons have gotten a bad rap in recent years, so much so that their use by police officers has been seriously questioned, especially in other countries. The owners of Brite-Strike, who are police officers themselves, hope their new Flexaton BIL will convince everyone that the baton can be a truly less-lethal device that law enforcement needs to carry.
It's made of semi-rigid thermo plastic with a hollow core. This material isn't affected by temperature, so it won't get too soft in heat or brittle in cold the way some rubber batons can. More importantly, because of this construction Brite-Strike's Flexaton BIL (Baton Integrated Light) hurts enough to gain compliance, but it's not lethal. Or as the company says, it will bruise, not break.
Like all Brite-Strike products, the Flexaton BIL contains a strobing flashlight that can be used to distract and disorient a suspect. This is a safety feature that can provide an officer with enough time to get the upper hand in a confrontation. The flashlight, which can be screwed off and used separately, can also be set to high (170 lumens) or low (80 lumens) with one finger via the company's patented Tactical Touch switch.
Brite-Strike co-owner Glenn Bushee is an active duty police officer in Massachusetts who designed this baton to better meet cops' needs by serving multiple functions. When you're already using the Flexaton BIL as a flashlight, you simply flick your wrist to deploy the expandable baton on the other end. You don't have to retrieve and transition to a weapon, which saves valuable reaction time.
But Bushee says the real advantage of the Flexaton BIL is that it can't be used to kill anyone.
"When you strike somebody, it will still give you the neuro-muscular impact. And if you miss a strike intended for the collar bone area and you hit them on the head, you may knock them out, but you won't crush the skull and there's no permanent injury."
And if it can't be used to kill a suspect, if a suspect somehow gets the baton, he won't be able to kill an officer with it.
"It's a flexible material, so you won't kill the suspect when you don't need to, but more importantly, he can't kill you with it. It's a win-win," says Bushee.
But if all goes well, you won't ever need to strike a suspect with the BIL. The combination of verbal commands with the BIL's distracting strobe and the immediate snap of the telescopic baton could be enough. Bushee likens it to the audible warning of racking a pump shotgun. "It's a command presence," he says. "My hope is that 99 percent of the time it stops right there and it's all set."
If you have to use the Flexaton BIL on a suspect and you find yourself defending your actions in a courtroom, a lawyer won't be able to claim that you used a dangerously lethal weapon with intent to kill, says Bushee.
"Now you get to say, 'Well actually, sir, your honor, members of the jury, no. This is the new Flexaton safety baton from Brite-Strike, which is designed to create neuro-muscular impact and compliance, but cause no permanent damage.'"
Brite-Strike's Flexaton BIL weighs 17 ounces, is 24 inches long when fully extended, runs on an included 123A lithium battery, and has a runtime of two hours on high and 4.5 hours on low. It is currently undergoing some "minor tweaks" and will be available in April.