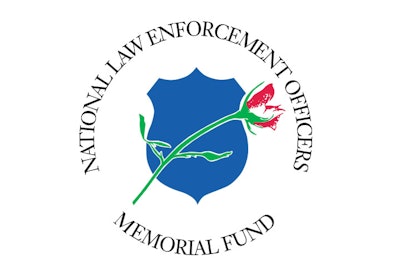 Special Agent Patrick Simpson of the Department of Homeland Security was instrumental in helping members of a DHS task force apprehend a fugitive wanted for double homicide. The fact that he spoke Spanish allowed him to locate the suspect, apprehend him, and then elicit a confession. For his efforts, Simpson has been named November 2011 Officer of the Month by the National Law Enforcement Memorial Fund.
It was late on Jan. 5, 2011, when the Homeland Security Investigations Operation Community Shield Task Force was asked to assist the Gilmer (Texas) Police Department catch a murder suspect whose native language was Spanish. Simpson wasn't a part of the task force, but he happened to be working late. He grew up speaking Spanish from his Panamanian mother and was the only one in the office at the time who was fluent, so he joined the search.
Miguel Espinal-Gomez, 26, an illegal Honduran immigrant, was wanted for murdering Subrina and Danny Clark, his girlfriend's aunt and uncle, on New Year's Day. Espinal's girlfriend reportedly told him Clark came onto her. Espinal became upset and drove to the Clarks' house to confront him, where he stabbed the 35-year-old husband and his 36-year-old paraplegic wife to death. He then fled.
As part of the search, Simpson interviewed one of Espinal's Spanish-speaking relatives. It took about three hours, but the man finally told the special agent where the fugitive was hiding out. It was a house on a ranch so remote that the relative would need to take officers to the location. This was the breakthrough they had been waiting for.
Simpson accompanied the relative and another agent in one vehicle to the ranch in rural east Texas. Lights came on and off in the house, so it seemed the fugitive was there. The three men stayed a safe distance away and called for backup.
"They were busy doing something else far away and this place was hard to find, so it took our backup a long time to get there. But that ended up working out well," says Simpson.
Once backup did arrive, they surrounded the house. Still being the only Spanish speaker on hand, Simpson knocked on the door and asked, in Spanish, for someone to open the door.
"The door opened. I saw an individual come out, and I grabbed him," says Simpson. "In that half-second I looked at him and I realized, 'That's him!'"
Waiting U.S. Marshals and Texas Rangers cuffed Espinal without incident. As Simpson and two others cleared the house, they saw firearms positioned at every window and every point of entry, and a pair of binoculars near one window.
"We all three noticed that if this incident had gone south it would've been really bad because he was ready for us," says Simpson.
Apparently, Espinal had been keeping vigil for the several days since the incident and was exhausted. He had finally fallen asleep by the time backup arrived. When Simpson knocked and spoke in Spanish, Espinal thought it was his friend whom he was expecting, so he opened the door without hesitation. The fugitive told Simpson so himself that night.
"Because I could speak Spanish, I conducted the interview and got him to admit to the murder and also got him to admit that he was ready to fight it out with the police," says Simpson.
Espinal was sentenced to life in prison for double homicide. Thankfully, no lives were taken on the night he was apprehended.
"Whatever you do, if you're ever in that type of situation, always wait for backup," advises Simpson. "A lot of times we have that mentality where we feel like we can go out there and arrest somebody just because we've done it a hundred times out on the street. But your backup is key."
Now Simpson is an official member of the task force he assisted in apprehending Espinal. His language skills were a large part of his success in that instance, and are still an asset to him on the job. "As diverse as this country is, English is obviously not the only language being used," he says. "It's a good tool to have, and I'm appreciative that I do know another language. It definitely saved us that night."
Simpson appreciates the recognition he's received, but he feels others who work for DHS should receive more recognition than they do. "Jaime Zapata is one of our agency's heroes," he says. "He gave the ultimate sacrifice earlier this year, and I want to recognize him and thank his family for the support they gave him and his law enforcement career. I also want to recognize the Homeland Security Investigation Special Response Teams, specifically Team 12 in Dallas. Those guys do a lot of good work and they're good police officers."