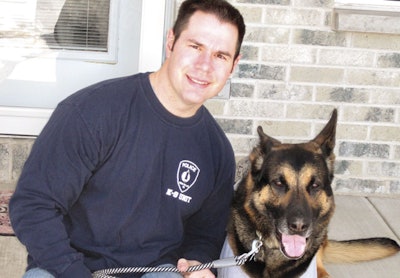 Officer Ryan Williams of the Fond du Lac (Wis.) Police Department didn't expect to get shot on Mar. 20, 2011. But when he did he made the best of a bad situation and fought for his life and recovery, so he could be there for his family and his agency. For his will and determination, Williams has been named the December 2011 Officer of the Month by the National Law Enforcement Officers Memorial Fund.
On that Spring day, Williams was one of several officers searching a duplex to rescue a 6-year-old girl from a man suspected of sexually assaulting the girl's mother. Before entering, the officer decided to put on a tactical vest, in addition to the concealable vest he was already wearing. "That ended up being a big factor in me talking to you right now," Williams says.
The team had to enter the suspect's side of the duplex via a shared basement. As Williams walked up the stairs to the man's residence, the suspect shot him in the chest with a .308 rifle, which spun him around. Another round hit him in the back and he fell down the stairs.
Williams was hit and knew he needed to get medical attention, so he got up and started walking as quickly as he could to get outside. He was walking on his own, but he didn't know for how long.
Once outside, Williams sought cover while he waited for an ambulance. Bullets were flying, and he saw a fellow officer collapse to the ground. He couldn't tell who, but he would later find out it was his friend Officer Craig Birkholz.
When the ambulance finally arrived, Williams had to literally chase it down. The driver realized he'd parked too close to flying bullets and backed away as the wounded officer, with only 25 percent lung capacity at that point, ran gasping for air. "That was unpleasant," Williams says.
His breathing was labored because his lungs were so badly bruised they'd begun filling with blood. But at the time, the officer and medics thought he'd been shot in the lung and might die. He was airlifted to a hospital, but not before he fought intubation. Medics would have to anesthetize him to put a tube down his throat to give him the oxygen they felt he needed. "I wanted a chance to fight for my life," he says. "It was an eerie feeling." Williams was afraid he'd never wake up. But he did.
The tactical vest Williams had decided to wear helped slow the bullets, but they still had done some major damage. After successful surgeries, doctors planned to keep the officer on a respirator for a week, but they didn't know him. After three days, Williams struggled to take the breathing tube out. When doctors relented and removed it, they were amazed that he could not only breathe on his own but immediately began talking and asking what had happened.
Williams' friends wanted him to hear it from them instead of on the news, so they told him about Officer Craig Birkholz having been shot and killed. They also told the officer that his K-9, Grendel, had been shot while waiting in the patrol car at the scene and was in surgery.
"Both my dog and I recovered really fast. We're a lot alike I guess," he says.
Motivating factors for Williams included wanting to see his two young children, who weren't allowed to visit him in the ICU, and wanting to give his fellow officers something positive to reflect on after losing one of their own.
"For my department, there were two different stories. We lost an officer, and then we had my recovery," says Williams. "When fellow officers came in to visit me, I knew I had to give them something to raise them up again, and I had to be strong. That was a goal of mine."
The number of hospital visitors and well-wishers also helped Williams. He believes telling his story over and over again was a kind of therapy for him, and the encouragement he received bolstered his resolve.
Determined to give back to his fellow officers and pay tribute to his friend, Williams attended Officer Birkholz's funeral, held six days after the shooting.
Three weeks after being released from the hospital, Williams, an avid cyclist, completed a 67-mile bicycle ride organized in honor of fallen officer Craig Birkholz. A week later he completed the local 100-mile torch ride for the Special Olympics. "Now people who've heard about this are giving me information about the 300-mile Police Unity Tour bike ride from New Jersey to the National Police Memorial in D.C., so that's my next goal," he says.
Williams and Grendel are fully recovered and back on the job. They regularly visit classrooms as well as other police departments where Williams relates their story of perseverance. "If my story can motivate other officers in the same situation to help deal, then great," he says.