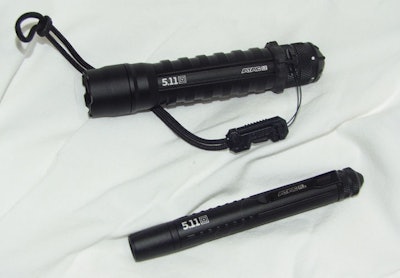 5.11 Tactical's ATAC line of lights provides high-quality, affordable illumination. It includes the PLx pen light, powered by two AAA cell batteries, and the L2, powered by two CR123A batteries.
One of the first things I noticed about both lights was the quality of the fit and finish. Black anodizing over the aircraft-grade aluminum is smooth and flawless, and the end caps screw off and on smoothly thanks to well-executed threads. Also, the knurling on the end caps (the equivalent of checkering on handguns) is virtually perfect.
A feature of the L2 I especially like is its "lockout" cap. You rotate it a quarter-turn and the light cannot be accidentally turned on. This will increase the life of your batteries.
Speaking of switches, both the PLx and L2 use push-button switches with an audible and tactile click. I like this "positive on" in a light, especially when transitioning to constant-on mode. The L2 switch offers four settings: constant on, intermittent, reduced output, and strobe. Illumination is reduced with a second push of the switch, and it strobes with three consecutive pushes. I found this to be one of the easiest to use multi-function switches I have encountered.
To test them out I used 5.11's ATAC lights locally to spot deer, which often venture into the yard where I live in the suburbs. The 222-lumen output of the L2 allowed me to see and tell the difference between the antlers on a 2-year-old buck and the branches he was standing against at 75 yards in the woods. The L2 will give you more than enough light to make out dangerous items in a suspect's hands or to illuminate a license plate at distances we contact folks. The 222 lumens is also more than sufficient to make a detainee blink and become momentarily disoriented.
As for the PLx, it won't double as a light saber, but it will function as a working light to clear a room or search under a car seat for contraband or your lost pen. Because its AAA batteries are much cheaper than CR123As, a small pen light such as the PLx is one I would consider a go-to light for many daily use actions. Its output is enough to stand in as a tactical light for traffic stops or to back up a higher output light such as the L2.
I found both of these ATAC lights carried well in my 5.11 Tactical pants, thanks to their removable clips. The clips secure the lights well even when climbing up and down hills. The L2 also ships with a lanyard to facilitate easy manipulation of other gear when needed.
If you are in the market for a light, the ATAC line from 5.11 is worth considering.
5.11 Tactical ATAC Lights Specs:
PLx:
Construction: Aerospace-grade aluminum
Batteries: 2 AAA Duracell batteries included
Switches: Momentary-on
Modes: High
LED: Cree XP-C
Lumens: 69
Runtime: 3 hours
Length: 5 inches
Max. Diameter: 0.7 inches
Weight (with batteries): 2.2 ounces
Features: Regulated circuit for maximum output, gold-plated contacts, water resistant, stamped metal pocket clip
Price: $29.99
L2:
Construction: Aerospace-grade aluminum
Batteries: 2 CR123A Duracell included
Switches: Intelligent switch with high/low/strobe; momentary-on switch; rotary dial lock-out switch
Modes: High/low/strobe
LED: Cree XP-G
Lumens: High 22, low 15, strobe 222
Runtime: High 4 hours, low 15 hours, strobe 7+ hours
Length: 5.3 inches
Max. Diameter: 1.1 inches
Weight (with batteries): 3.8 ounces
Features: Regulated circuit for maximum output, gold-plated contacts, water resistant, stamped metal pocket clip, black TPR soft touch anti-roll ring, breakaway lanyard included
Price: $84.99
Scott Smith is a former federal police officer for the Department of Veteran's Affairs who currently serves as a reserve officer.