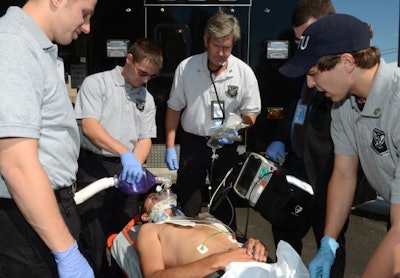 There continues to be a void in providing law enforcement officers critical medical care on the scene of the incidents that inflict upon them serious injuries. Under certain catastrophic conditions, an officer may not be able to be transported to a hospital for timely emergency medical care. Standard emergency medical services (EMS) personnel are typically the medical first responders during a field crisis.
Unfortunately, as the military has learned with medical evacuation and field hospitals, the standard EMS response is not very effective in a hot or combat zone. Extreme injuries require rapid advanced medical and surgical intervention in the field. For most grievously injured law enforcement officers, including federal officers, that level of emergency field care does not exist in most locations. But there may be a way to apply the military model to law enforcement and save the lives of more officers through rapid trauma care.
Successful experiments in law enforcement trauma care have already been conducted. Twelve years ago Dr. Maurizio Miglietta, then chief of trauma surgery at Bellevue Hospital in New York City and creator of the emergency medical "Tac-Pack" conceived the idea of being able to bring the hospital to the injured law enforcement officer in a civilian setting. New York has some of the best EMTs in the world, but Miglietta realized that the city's dense infrastructure would challenge their transport capabilities. So he set out to overcome traffic obstacles and bring emergency trauma care to fallen and stranded law enforcement officers in the field.
"In a large urban area like New York City, a trapped officer's chances of surviving with on-scene doctor-level care would significantly increase," Miglietta says. "If the injured officer has a severed limb or head trauma, critical medical decisions and treatment may have to be taken immediately on scene. During high-profile events, such as the United Nations General Assembly or high-level dignitary visits, an officer may fall victim to a violent catastrophic attack. Under these conditions, it may not be feasible to move the injured officers without causing them additional injury." Rather than remain idle waiting for an emergency call, Miglietta took the initiative to be within close proximity to the high-risk event. This positioning has allowed Miglietta and his team to render timely critical trauma care.
Miglietta was able to establish the New York-based Mobile Trauma Unit. The Homeland Security Mobile Trauma Unit Inc. is a non-profit organization 501(c)3 comprised of all volunteer professional medical personnel. Since its inception, the Mobile Trauma Unit (MTU) has provided critical medical support to law enforcement officers during national security events, high-risk enforcement operations, and training exercises. In addition to being activated for the UN General Assembly, the MTU has been used for details assigned to presidential visits to New York as well as the papal visit.
There is currently no other organized medical team in the region with comparable on-scene immediate surgical capabilities. The MTU supplements local EMS by providing injured officers with field access to advanced surgical care. The MTU evaluates and treats law enforcement patients on scene during instances where they are trapped in a structural collapse, for example, or have limited mobility due to high-level security issues. After the injured officer receives the critical trauma care, his or her chances of surviving are significantly increased. This empowers EMS's ability to transfer the injured officer safely to the nearest hospital for extensive medical care.
In order to bring the necessary equipment to the scene, the MTU employs a Surgical Response Unit (SRU) that functions as an operating room on wheels. Once they arrive, the team can triage the injured officers, move them into the SRU, and if necessary, perform life-saving surgery on scene. The SRUs are equipped with advanced ventilators, intubation equipment, amputation tools, and other critical medical instruments for emergency trauma care.
The MTU is staffed by volunteers, including surgeons, emergency physicians, nurses, paramedics, and ancillary support staff. These medical professionals bring special skill-sets to the team, and are able to apply their knowledge and experience from their respective areas of expertise. All members are also trained in the use of biological, chemical, and nuclear protective equipment, and will respond to a "hot" or contaminated environment to render care.
In addition to providing emergency trauma care, the MTU also provides training to various law enforcement agencies. The motto of the program is: "Heal those who protect us." Miglietta and the MTU also host an annual anti-terrorism symposium in New York City. Obtain more information on the MTU here.