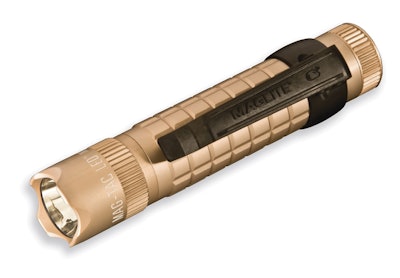 When you hear the name "Maglite," you probably think about large, heavy, extremely bright flashlights carried by patrol officers. The company has been very successful in developing and marketing such lights to law enforcement. But a new product line from the Ontario, Calif.-based Mag Instruments may change your perceptions of Mag and its flashlight line.
About three years ago Mag started developing two models of mid-sized, extremely bright tactical flashlights. Scott Field, director of sales-corporate for Mag Instrument, says the company wanted to produce a light that the U.S. Army would approve for purchase and use by soldiers. Army budget cuts killed the program before the lights could be approved, so Mag decided to target it's new lights toward the law enforcement market.
"We brought in focus groups from the LAPD and the Ontario (Calif.) PD to get a feel for how they would use these lights," says Field. "We also wanted to know what features they wanted to see in the lights." Mag modified the specs of its new tactical flashlights to meet the desires of its law enforcement customers, and the result is the Mag-Tac line of police flashlights.
Introduced earlier this year, the Mag-Tac line consists of two lights: a patrol model and a tactical model. Both lights are mid-sized, five inches long and one inch in diameter, feature Cree LEDs, and are constructed of aircraft aluminum. The two models are distinguished physically by the bezels. A crenelated bezel marks the tactical model, and the patrol model has a plain bezel. The patrol model has a maximum output of 310 lumens and a range of 182 meters, while the tactical model generates 320 lumens out to a range of 193 meters.
The bodies of both Mag-Tac lights have aggressive knurling to keep them in officers' hands under the most adverse conditions. "We coined the phrase fist-grabbable to describe it," says Field. "The knurling was designed so that you could grab the light while wearing gloves and not have it slip out of your hand. And the knurl, which consists of a pattern of large raised squares, suggests the surface of the old 'pineapple' hand grenade. The resemblance is intentional; it communicates ruggedness, combat-readiness."
The Mag-Tac flashlights were designed not to just be effective but also to be economical. Not only are they inexpensive to purchase with list prices of $65 for the patrol model and $70 for the tactical model, they also come with the batteries.
And they have excellent run times. Two CR123A batteries can power either of the lights on maximum power for four hours. The patrol model also has a power reduction mode that throttles back on lumen output but boosts the runtime more than fourfold to 17 hours.
"When we spoke with our law enforcement focus groups about what they wanted in a light, they wanted a bright light with a runtime of more than an hour," Field says. "In terms of runtime we gave them more than they asked for; but these lights are still plenty, plenty bright."
The Mag-Tac line, like all Mag flashlights, is U.S. designed, U.S. engineered, and U.S. made. "We build these lights in Ontario, Calif., even down to the pocket clip," Field says. He adds that the company can still make its products in the United States and offer economical pricing because of efficiencies that it has achieved in manufacturing. "We automate a lot of the process in our 700,000 square foot plant," he says. "That gives us the capacity to make a lot of product and keep prices low."
Field says the Mag-Tac line is proving very popular with law enforcement. "We've received nothing but praise for it," he says, "starting with the National Tactical Officers Association, which awarded it the 'Member Tested and Approved' stamp. Officers love the brightness level and the hand feel. Some are asking for a rechargeable version of the Mag-Tac light and we will be addressing that soon."