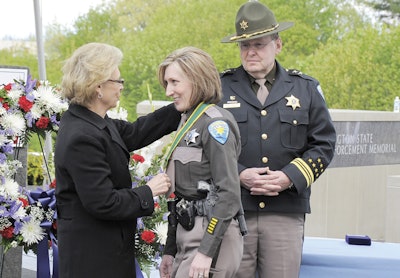 If as it's said there's no rest for the wicked, then it follows that the Sabbath day offers no respite for law enforcement. Certainly, the third Sunday of January 2011 adhered to that truth as three Kitsap County, Wash., Sheriff's deputies could attest.
The trio converged on a Walmart Store located off Bethel Road in South Kitsap where an informant reported they could find a man in the company of a young girl he claimed to be his daughter. It was the true nature of their relationship that concerned the reporting party and prompted her to request the deputies.
The informant had earlier made an Internet connection with a man from Utah, who then showed up at her house accompanied by a young girl. Although the man, Anthony Allen Martinez, 31, had identified the girl as his daughter, his conduct toward the girl appeared to be of a more romantic nature. This "creeped out" the informant, who noted that the two had been sleeping in Martinez's van at night. She returned to the Internet to conduct additional research about Martinez.
When Martinez asked the informant to meet him at a nearby Walmart, she immediately called the Sheriff's Office and asked Dep. John Stacy to investigate the pair.
She shared the information she had gathered, and added that the man had a magazine to a firearm, although she'd never seen an actual firearm. Her adamant assertions that there was something wrong about the relationship between the adult male and adolescent girl were plainly sincere.
Stacy requested an additional unit to assist him. In response, Dep. Krista McDonald met with Stacy in the Walmart parking lot where he brought her up to date with the sketchy information he had received from the informant.
Background Check
With the subject of their investigation possibly inside the store, Stacy hoped a call to Martinez's father with a phone number given him by the informant might help clarify the girl's identity. But if the man answering the phone proved wishy-washy upon being contacted, he was downright evasive when it came to identifying the girl in his son's company. By the time Stacy hung up his cellphone, his own concerns had been substantially elevated.
Meanwhile, McDonald was wrestling with some questions of her own. If the duo had driven to Washington from Utah as asserted by the informant, could this be a case where a runaway had crossed state lines or perhaps even a kidnapping? The speculation was a shot in the dark, but it was enough to prompt McDonald to pull her patrol unit to the rear of the Walmart where she began to run searches on Martinez's history via local and statewide databases.
Nothing came up, so McDonald turned her attentions to the reporting party: Could she have some issues worth looking into? Something of a criminal or mental nature? A search of the woman's information also came up with nothing. McDonald contemplated Googling Martinez's name, but talked herself out of it.
That was an uncharacteristic bit of second guessing that she would come to regret.
Making Contact
Stacy had found the suspect's unoccupied vehicle in the store's parking lot. So McDonald doubled back to where he waited for her. They ran the van's plate and were advised that the vehicle had no hit and wasn't listed as missing. Stacy then asked their dispatch center to have the suspect run through Utah's databases. Again, Martinez's criminal and driving records came back clear.
It was about this time that Dep. Andrew Ejde arrived to assist Stacy in entering the store to look for the male and female. Tasked with keeping an eye on the vehicle while her peers went inside, McDonald positioned her patrol car to the south of the Walmart, a vantage point that allowed her to maintain a vigil on both the front door and the suspect vehicle.
As he and Ejde began to approach the front doors of the store on foot, Stacy saw a male matching Martinez's description in the covered smoking area for the employees. Stacy made contact with the male and asked the man to identify himself. In response, Martinez produced a food handler's card with a photo that didn't match his appearance and said his name was "Nick." When he was unable to volunteer anything of a more definitive nature, Stacy asked Martinez to stand up so that he could conduct a patdown search for weapons. Martinez got to his feet in seeming compliance, faced away from the deputy and placed his hands behind his back. Seeing this, McDonald started to get out of her car to join the contacting deputies.
But as Stacy began his patdown of the man, Martinez suddenly broke and ran. Stacy reached for him but missed and stumbled, leaving Ejde to get the jump in taking off after Martinez. A foot pursuit followed.
Ejde began to close the gap between himself and the suspect. Then Martinez suddenly turned. In his hand was a high-caliber semi-automatic handgun.
Under Fire
Martinez's first bullet struck Ejde high in his left shoulder; its impact spun the deputy momentarily to his left. As Ejde righted himself toward the fleeing suspect, he was hit by a second round. This bullet tore into Ejde's right bicep, spinning him around to his right and to the ground where he landed hard atop a raised flower bed.
Shot twice, Ejde was still mentally alert and committed to engaging his attacker. But he couldn't draw his duty weapon. Ejde rolled off the raised planter to a concrete curb in a bid to find cover.
Stacy now found himself alone against the gunman. Martinez zeroed in on him and opened fire, striking Stacy with a round that passed through his right shoulder and knocked the deputy to the ground. Regaining his footing, Stacy dove behind a parked patrol vehicle for cover.
At first McDonald had drawn her TASER in hopes of closing within 21 feet of the fleeing suspect and incapacitating him. But then she saw and heard the gun and transitioned to her Glock 23 and fired four rounds at Martinez, now approximately 100 feet away.
McDonald's incoming rounds drew Martinez's attention toward her. Martinez fired two rounds at McDonald, who could hear and see the bullets flying past her head. Point firing on the run, she watched as one of her rounds struck the assailant in the leg and he dropped to the pavement.
Down but hardly out, Martinez rolled onto his back and resumed firing at McDonald, who'd moved to within 60 feet of the suspect, placing herself in the line of fire to distract the suspect from firing at the wounded deputies.
Just then, Martinez's companion, 13-year-old Astrid Valdivia, came sprinting toward him. What the girl's intent was will never be known. She'd drawn within three feet of Martinez when he aimed his Glock at her torso and fired twice before rotating the barrel at his own chest and pulling the trigger.
Only 39 seconds had passed from the time Martinez had broken contact and run. Now, two deputies were wounded and the girl and Martinez were down.
Regaining his feet, Dep. Stacy advanced and provided cover for his wounded partner as McDonald approached the downed suspect. Martinez was no longer active. Stacy reholstered his weapon and rendered first aid to Dep. Ejde before being relieved by the initial responding back-up deputies.
McDonald cleared the suspect's weapon and tended to the wounded girl until EMS personnel arrived. They transported Valdivia to Tacoma General Hospital where she later died. Martinez was pronounced dead at the scene.
Recollections and Recovery
Recalling the events of that January afternoon, McDonald has few regrets about how she performed under fire.
She does wish, however, that she'd taken a few seconds to Google the man's name after her initial background checks raised no alarms.
"It would have taken a couple of seconds, and I would have found an article out of Utah detailing how Martinez had been arrested in California for kidnapping this same girl," notes McDonald. "He was out on pre-trial release for that previous kidnapping. If we'd had that information, we may have done things differently, perhaps waited until we had more personnel on scene and coordinated a felony takedown of the man."
Both Ejde and Stacy have recovered from their injuries and returned to duty. While uninjured, some might wonder what impact the shooting left on McDonald.
This was her first shooting incident, but it was not the first suspect death she'd experienced. A man that she had TASERed twice before taking him into custody died in 2004.
She says knowing how to compartmentalize her feelings about such incidents is one of the requirements of the job. "You can't be sad for everybody who dies when you're in this line of work because you'll just shut down," she advises.
Both McDonald and Martinez were shooting .40 caliber Glocks so some wondered if McDonald's rounds could have been responsible for the girl's death. Powder burns on the girl's clothes and the larger holes due to Martinez's heavier rounds removed all doubt.
McDonald's biggest regret about the incident was that it wasn't her shot that took out Martinez. "He killed himself. I was very angry because he shot my partners. He killed a 13-year-old girl. He shot at me. I wanted to be the one to take him out."
McDonald believes that her training played a large role in her response that day. Just three months prior to the incident, she took part in an open range training where deputies were able to work on any skill of their choosing. She chose to work on shooting while moving.
"Sometimes you're in a gunfight and you don't have cover and you have to find your cover," McDonald says. "Shooting and moving and not planting yourself and becoming an easy target for someone…If I had stood still, I probably would have been shot, as well."
McDonald received numerous local, state, and federal medals of valor, including her agency's medal of valor, the Washington State medal of valor, and the National Sheriff's Association Deputy of the Year award. The Federal Public Safety Officer medal of valor was also presented to her by Attorney General Eric Holder and Vice President Joe Biden.
As noted in one medal of valor ceremony, her quick and decisive actions were instrumental in saving the lives of two wounded deputies, as well as her own, while advancing without protective cover toward a perpetrator who continued to fire on her. She also eliminated an imminent threat to public safety and the lives of civilians who were in the immediate vicinity.
McDonald continues to serve the people of Kitsap County.
WHAT WOULD YOU DO?
Put yourself in the shoes of the Kitsap County, Wash., Sheriff's deputies on Jan. 23, 2011, who are contacting a possible predator. Now ask yourself the following questions (feel free to respond in the comments below):
To what extent do you exploit social media in conducting investigations? Have you found it helpful?
How would you have handled the situation based upon what had been communicated by the reporting party? Would you have attempted to initiate contact inside the store? Or waited for them to drive away? What factors would make you handle contacts differently?
What kind of standing search do you do of suspects? Does it put them off-balance? What do you do to mitigate the likelihood of someone fleeing from you?