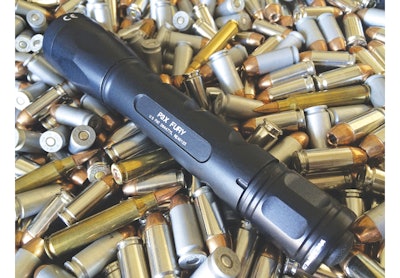 When it comes to professional-grade tactical lights, SureFire is still one to watch for technology and design. Incandescent gave way to LEDs several years ago and ever since capabilities have skyrocketed. These days, if you're not pushing 1,000 lumens out of a handheld light you're not impressing anyone. The new SureFire P3X Fury handheld tactical light impresses everyone.
You may be thinking, "1,000 lumens in a three-cell handheld? Are you kidding me?" A "lumen" is a measure of light intensity. To put it more simply, 1,000 lumens equals the kind of light normally reserved for those mounted to vehicles and helicopters. Yeah, it's bright.
The P3X Fury runs on three CR123 lithium batteries and has a sleek, matte-black anodized aluminum design. Its shock-isolated bezel and body are scalloped for easy grip and the Fury features SureFire's robust tailcap activation switch. This is a dual-output light that can spit out either 15 or 1,000 lumens, depending on your intended application. On low, 15 lumens is perfect for close-up work or when you want to clear a small room without blinding yourself. On high, 1,000 lumens with more than 22,000 candela is enough to search open fields, signal airplanes, or blind astronauts in space.
Operating the Fury's two modes is easy. The first press of the tailcap gives you 15 lumens. Quickly release and activate the tailcap again and you'll get everything the light has to offer. If you want to keep it on, simply add a little more pressure and the tailcap clicks to a constant-on position. There's no strobe feature here and I'm not missing it.
Battery life is around 60 hours (yes, I said 60 hours) in the 15-lumen mode and over 2.25 hours in the 1,000-lumen setting. Both are extremely impressive and you'll be thanking SureFire for the money you save by not constantly eating through a box of expensive lithium batteries.
When my P3X arrived I immediately found a home for it on my duty belt and went 10-8 for my usual midnight patrol shift. Flashlights are my lifeline considering the hours I keep and the Fury was going to get a workout. I found the 15-lumen setting to be great for most applications, from filling out paperwork to searching cars. The extra length of a three-cell light compared to a two-cell (found on most tactical lights) is nice because it allows me to tuck it under my arm and free up my hands while completing administrative tasks.
The two-stage tailcap worked great, even with gloves, and I really like the low/high sequence of programming. Even when I had an immediate need for the high setting I was able to quickly double-click past the low mode with ease. Operating the P3X in the high-lumen setting was impressive. The tight, focused beam allowed me to light up people and objects from blocks away. After several weeks of use the original set of batteries in my Fury is still going strong. This was never the case with my previous light. I haven't timed my usage but I believe SureFire's claims are accurate.
SureFire's P3X measures just under seven inches long and weighs in at just over seven ounces with the included trio of lithium batteries so you'll likely have no problem toting it around on your belt. With an MSRP of $250 the Fury isn't cheap, but no quality piece of gear ever is. If you're not impressed, SureFire offers a 30-day money back guarantee—but I think you will be. I've tested more flashlights than I can count and this one certainly stood out from the pack.
A.J. George is a sergeant with the Scottsdale (Ariz.) Police Department currently assigned to the advanced training unit as a firearms and tactics instructor.
• Output: 1,000 lumens on high, 15 lumens on low
• Runtime: 2.25 hours on high, 60 hours on low
• Length: 6.8 inches
• Bezel Diameter: 1.37 inches
• Weight (with batteries): 7.2 ounces
• Batteries: 3 123A (included)
• Price: $250