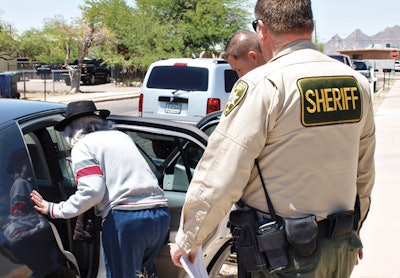 Guns may not kill people, but when the mentally ill do, it can—and has—resulted in mass slaughter.
As social service providers struggle to meet the demand for psychiatric rehabilitation programs, many police agencies are finding themselves reluctantly cast as community "caregivers of last resort." And when the next mental health-related mass shooting inevitably occurs, the public will again question whether law enforcement could have prevented the carnage.
Two agencies in Southern Arizona, the Pima County Sheriff's Department and Tucson Police Department, are taking on that challenge. The joint Mental Health Support Team—part special investigations unit, part information clearinghouse, and full-on crime prevention task force—serves with a three-pronged approach: Identify individuals at high risk for violence. Connect (or reconnect) them with local behavioral health service providers. Then hold them accountable to court-ordered treatment plans.
"It's long overdue for law enforcement to take a more proactive approach," says Tucson Police Chief Roberto Villaseñor. "Mental health may not be the main component of our wheelhouse, but it has an effect on so many things we do, and so many of the significant violent acts that have occurred over the years, that it can't be ignored."
It's Our Problem
According to the federal Substance Abuse and Mental Health Services Administration, more than 43 million Americans experience a diagnosable mental illness each year. And while being mentally ill is not a crime, these individuals' bizarre behaviors too often bring them face to face with law enforcement.
"We didn't think it was our problem, but it is," says Sgt. Terry Staten, who oversees the Pima County Sheriff's Department MHST unit. "We're dealing with these people on a daily basis, and have more face time than [even] their doctor would."
While the vast majority of people with mental illness are non-violent, the link between psychiatric illness and multiple-casualty incidents cannot be overlooked. Of 35 mass shootings since 2000, fully 31 involved a suspect with serious mental illness, according to Jim Kirk, a retired Tucson Police sergeant who oversaw the agency's Behavioral Sciences Unit.
"There is no way to determine the exact percentage of calls that are related, or have some nexus, to mental health," he says. "But I think it is indeed safe to say that one-third is a conservative estimate."
In Tucson, law enforcement has witnessed mental health-related mass casualty incidents firsthand.
On Jan. 8, 2011, Jared Loughner—an undiagnosed schizophrenic armed with 93 rounds in high-capacity magazines—attempted to assassinate U.S. Rep. Gabrielle Giffords at a public outreach event. After shooting the congresswoman in the head, he turned his gun on the waiting crowd and gunned down an additional 19 people. Six were killed, including a federal judge and a 9-year-old girl.
Tucson suddenly became ground zero for a national debate about mental illness, gun violence, and missed intervention opportunities.
A sheriff's department investigation later revealed that Loughner had been repeatedly identified as mentally unstable by Pima Community College teachers, as well as students. A month before the shooting, his behavior became so erratic that campus police delivered a notice of immediate suspension to his parents—who never arranged the mental health evaluation they were supposed to.
"We didn't have the connections or communications between mental health providers and law enforcement that we do now," Staten says. "Authorities did everything they could, with the resources they had at the time."
The driving force behind MHST is Byron Gwaltney, a Pima County Sheriff's Department bureau chief who served as incident commander at the Loughner shooting. The unit began with two full-time deputies assigned to serve petitions for evaluation or treatment, and expanded to include three deputies, two detectives, a sergeant, and a civilian researcher.
Tucson Police Department joined the team earlier this year, adding two additional officers, a detective and a sergeant. The group meets monthly with local behavioral health providers and other stakeholders to debrief significant cases, and is actively seeking to bring other Southern Arizona law enforcement agencies into the mix.
MHST officers follow up on tips from various sources, including the general public. They conduct their own expanded investigations and surveillance operations, and take into custody individuals who fail to comply with court-ordered treatment plans. Because they can be directly dispatched to incidents with a mental health connection, team members also help reduce the call load for patrol.
"Obviously, if a crime has been committed, we're going to deal with that," Staten says. "At the same time, we're going to get the mental health folks involved to see if there are other programs we can get this person in if their treatment isn't working."
Speedy Service
In the past, when Tucson police transported mentally ill subjects for medical evaluation, they faced long waits in crowded hospital emergency rooms, taking patrol units out of service for hours and traumatizing patients already in crisis.
In 2011, the city launched the Crisis Response Center (CRC), a 24-hour hospital facility that offers immediate evaluation, stabilization, and emergency psychiatric services for adults and children. It features a secure, law enforcement-only entrance and streamlined admissions process, and has enabled officers to drop off patients and go back in service in about 10 minutes.
The center and the MHST unit also save money, says Neal Cash, president and chief executive officer for the Tucson-based Community Partnership of Southern Arizona (CPSA), which oversees regional behavioral health services.
"In 2012, we were able to reduce the time that a person with serious mental illness stayed in jail from 22 days to just under five," he says. "That resulted in a $2.6 million reduction in jail costs, a pretty significant cost savings to taxpayers."
Intervention and Prevention
Officers and deputies on the Mental Health Support Team learn a wide variety of threat-assessment skills, crisis de-escalation techniques, and non-verbal communication tactics. They receive advanced Critical Incident Training, and are chosen based on strong interpersonal-communication skills.
Since TPD's MHST unit became operational this year, its officers have served more than 350 mental health court orders, with an 85% service rate. Officers are not subject to daily "quotas" for serving court orders, and are empowered to investigate cases at a pace they feel is appropriate.
"They're told to take as much time as they need," says Tucson Police Capt. Paul Sayre, who commands his agency's MHST unit. "If developing a rapport prevents one of the court orders we're going to serve from going into a full barricade—a situation where we have to call out a hostage negotiator and a tactical team—they've done a great job. Because all of those calls have the potential to go that way."
Officers and deputies are also empowered to investigate cases as they see fit. One case referral was particularly disturbing.
Officers learned of another Pima Community College student who, like Loughner, obsessed about perceived slights from instructors and terrorized them to the point that campus police become involved. When MHST launched an investigation, officers found disturbing posts on the man's Facebook account including death threats directed at U.S. Rep. Ron Barber, the Giffords aide completing the former representative's remaining term in Congress.
"It's difficult to measure what [crime] didn't happen," Sayre said. "But both agencies have intervened successfully in situations they reasonably believed would have resulted in serious crime, had the person not received treatment."
Bryn Bailer, formerly a member of the Tucson Police Department's Communication Division, is an award-winning freelance journalist.