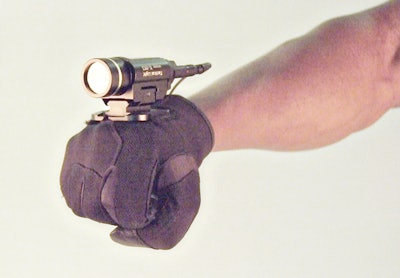 How many times have you found yourself holding a flashlight and wishing you had both of your hands free? It's difficult to perform other tasks when you're holding a light. Officer Suresh Madhavan was tired of finding himself in this dangerous predicament working the midnight shift, so he created the Exxtremity Glove.
"We've had officers on foot pursuits drop lights or they flew off their belts," Madhavan explains. "And once my fellow officers and I all had our lights tucked under our arms talking to a group of people. But when things got physical, everyone's flashlight hit the ground because we were scuffling. Then we were left in the dark."
As an officer with the Wall Township (N.J.) Police Department, he had experienced this problem repeatedly and seen attempts to secure lights in various ways fail, either while running or during altercations. Determined to develop a solution that would satisfy his needs on patrol, Madhavan developed the Exxtremity Glove for his own use. "I feel safest when I have both hands free," he says. He took time to perfect the gloves that allow you to mount a tactical weapons light on the back of either hand and now sells them to other officers as owner and president of 221B Tactical.
"For a foot pursuit or bailout, you don't need to worry about grabbing a light from your car before you go after a suspect. If you already have the Exxtremity Glove on, thelight will be with you the entire time, even while you grab, punch, or restrain a subject," says Madhavan. "It's not dropping to the ground or rolling away." And during a nighttime traffic stop, you can easily illuminate the inside of a car while your other hand is available to draw your weapon.
But it took time to come up with what would eventually become the Exxtremity Glove.
"I started working with little clip-on LED lights, but nothing seemed to be working," Madhavan says. "So I thought, where should the light ideally be? I realized while holding a flashlight, my hand was always where the light was pointed."
So he started testing different mounting systems and flashlights on his hand. He began with a small light velcroed to his patrol glove, but eventually decided on a larger weapons light. "If it's good enough to mount on a weapon for lighting, why not mount it on your hand?" he reasoned.
"The 250-lumen light on the glove is more powerful than the lights we're issued for patrol and it uses basic CR123a batteries," Madhavan says.
Easy activation comes with an optional pressure pad embedded within the glove. "All you need to do is press your thumb along your index finger," Madhavan says. The first time he used the Exxtremity Glove during a residential burglary call, he realized just how useful the placement of the pressure pad can be. As Madhavan drew and gripped his weapon, he was able to actuate the light via the pressure pad at will, which he discovered as an added benefit.
Now, K-9 handlers use the Exxtremity Glove to keep their hands free while on a track. They hold a lead with one hand and have the other hand free to draw a weapon if need be. Madhavan says he and other officers are constantly discovering new ways for the light to be used.
After solving his initial problem, Madhavan decided to add more functionality to the Exxtremity Glove. A strobe mode can both alert passing drivers to your presence during a traffic stop and temporarily blind subjects who may pose a danger to you. Just double-tap the pressure pad or double-click the actual switch on the light to activate the strobe.
Dexterity and durability were also important to incorporate into the glove, but Madhavan wanted to take it a step further. "Not only is it a well-fitting glove with reinforcements where they are needed most, but silver incorporated into the fingertips also allows you to use your smartphone, tablet, or in-car touch screen computer without taking your gloves off," he says. You can also throw the gloves in your washing machine. Just take off the light first.
A package including a pair of Exxtremity Gloves with the light and pressure pad costs $139.99. The gloves are available in black, but more colors may be added in the future.