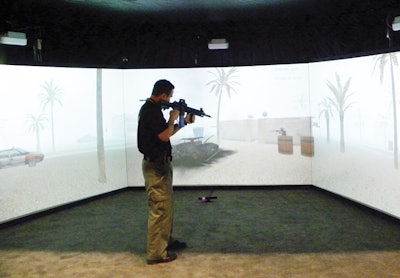 There was a mascot at this year's International Association of Chiefs of Police show in Orlando, and it wasn't Walt Disney World's mouse. For the first two days of the show—until they ran out—just about every other attendee on the exhibit floor could be seen carrying a blue plush toy dinosaur.
The stuffed toy T-Rexes were courtesy of a major marketing campaign by TASER International. On the back of each one was TASER's slogan for the show, "Don't Be a Dinosaur."
To say that TASER dominated the late October trade show would be an understatement. It had the largest booth. It had people lined up in the aisles to watch a presentation on the evolution of law enforcement technology, and it even had a representative walking the floor in a very realistic velociraptor costume.
All of this marketing firepower was in service of the company's officer-worn video system solutions, the AXON Body, AXON Flex, and the cloud-based evidence management system Evidence.com. It probably also served to just keep the subject of officer-worn video at the forefront of the attendees' consciousness.
Which was fitting. Because this year's IACP was a showcase for wearable video and its ability to collect evidence and exonerate officers from baseless charges of abuse.
Here's a quick look at some of the new wearable video systems and new versions and features of existing officer-worn evidence capture equipment that caught my attention.
L-3 Mobile-Vision debuted its BodyVision high-definition body camera, which integrates with the company's Digital Evidence Series (DES) software. DES is also used with the company's vehicle video systems. BodyVision offers users four hours of HD recording, wireless audio transmission so that the audio matches the audio being recorded by the L-3 vehicle video system, trace point snapshots, and tamper-resistant controls for evidence security. Video upload can be handled with no fuss by a docking station.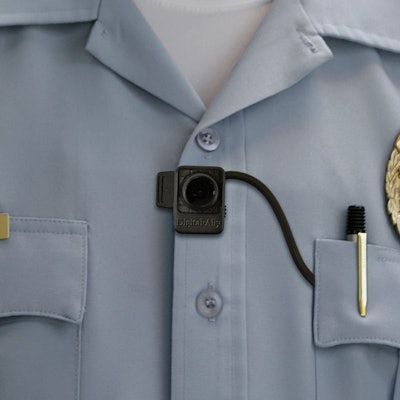 Digital Ally launched several new features for its FirstVu HD body camera this year, including the VuVault.Net cloud storage option powered by Microsoft Azure. In addition the FirstVu HD is now available in a smaller, lighter bullet camera option that can be mounted to a hat or glasses. The "bullet camera" offers the same HD quality, wide-angle and low-light recording capabilities as the torso or helmet-mounted camera. Another new addition to the FirstVu product line is an automatic charging and uploading dock, something many customers have been requesting. Visitors to the company's booth also watched demonstrations of the system's ability to automatically start recording based on triggers from a vehicle or in-car video system using VuLink. Finally, to demonstrate the capabilities of the FirstVu HD, Digital Ally streamed live video from its body cam during the show. Digital Ally also showed the free VuVault GO secure mobile app that can wirelessly access video feeds or recordings, add Event IDs and notes, tag with GPS, control the system, and more.
Reveal Media is a major player in the worldwide law enforcement body camera market. The British company is now pushing into the U.S. market, and at IACP it showed its new RS2-X2 system. The RS2-X2 has a 120-degree x 60-degree field of view and features a two-inch screen that displays the video as it is being captured. The display can be temporarily disabled for stealth recording. Another striking feature of the RS2-X2 is its case; it's extremely rugged. Footage can be reviewed in the field, but to ensure evidence integrity, files from the RS2-X2 can only be played on computers with Reveal's DEMS software. There is also a usage log to prevent tampering.
TASER did much more at this year's IACP than put on a show. The company also announced that it has developed a technology that activates AXON cameras whenever an officer switches on a vehicle light bar or powers on a TASER Smart Weapon. TASER's new AXON Signal wirelessly triggers all AXON devices within range of the signal to ensure that officers capture multiple perspectives of an incident. The company says it will be available early next year.
Utility debuted its BodyWorn wearable camera, which works with the company's in-car routers and its other products to create what it calls "the Engine." The public face of the Engine is the BodyWorn wearable evidence capture system, which triggers from signals sent by the in-car systems. Dispatch can also start a recording. BodyWorn features an internal GPS and an accelerometer. Using the company's 4G LTE Rocket Router inside the car, the BodyWorn can stream live video. Another interesting feature of the BodyWorn is voice recognition, which allows officers to activate a recording or manipulate the controls hands free.
Vievu showed a new feature on its LE3 systems that allows the camera to stream live video. It sends a signal to the wearer's smartphone and sends the video out over high-speed cellular data networks. The company also announced that it is partnering with Microsoft on a CJIS-compliant cloud storage version of its Veripatrol software.
WatchGuard debuted its new Vista HD wearable camera, which captures 720p high-definition video. Vista has a 130-degree wide angle field of view and an adjustable lens that rotates 28 degrees so it can be aimed from a variety of mounting positions. Record time for HD video is six hours. A display on top of the Vista unit communicates to the user the battery level, memory status, number of recordings, current recording duration, and other information. Available in March, Vista is fully integrated with the company's in-car systems and evidence management software. It uploads and charges from the same docking base.
Wolfcom showed its Wolfcom Vision body-worn camera. The device captures video evidence at 1080p HD resolution in a full 16:9 aspect ratio. It also features a rotatable wide-angle lens. This lens makes it possible for users to locate the camera in a number of different positions, including an above-the-shoulder view. A docking station is available for uploading the files to Wolfcom Management Software.
Here's a look at some of the other cool products at IACP 2014 by category.
Devices and Software
Motorola Solutions showed a new mission-critical handheld LTE device, the LEX L10. The LEX L10 is essentially a smartphone, but it's one that was built specifically for law enforcement operations. It is not only more rugged than a consumer smartphone, it offers a number of features essential for mission-critical communications. The LEX L10 has Motorola's Public Safety Experience (PSX), which prioritizes incoming information based on what the responder is doing. Using Motorola's WAVE Workgroup Communication, the LEX L10 is interoperable with land-mobile radios. The LEX L10 also offers dynamic mapping and live video streaming. Features include a textured push-to-talk button, a 4.7-inch display, and a long-lasting battery.
Thin Blue Line showed a modular software system for Apple devices that includes e-citation and e-reporting capability. The software modules are CJIS and FIPS compliant, and they integrate via a secure cloud architecture with RMS systems and court platforms.
New Zealand's Wynyard Group showed its new Digital Evidence Investigator software at IACP. The product helps law enforcement process and analyze complex digital evidence from mobile phones, laptops, and other storage devices lawfully seized from suspects. The software forensically extracts and processes data held on devices such as call and text records, e-mails, Internet and social media history, and images and videos, while preserving all of the data in its original form.
In Car Video
Digital Ally introduced a new in-car video system in Orlando. The MicroVu is a compact—3 inches x 4.25 inches x 1 inch—system that is designed for easy installation and easy use. In addition to its compact size, the MicroVu offers a variety of high-end features, including HD evidence capture at resolutions of 1080p or 720p, RFID login, remote recording activation via wireless mic, pre-event recording, and enhanced low-light recording.
Kustom Signals showed a new controller for its G3 Vision in-car video system. The new Anywhere Monitor Controller (AMC) is a compact controller that can be mounted almost anywhere in the vehicle and is interchangeable so users can move an existing G3 Vision system into another car and easily convert it to the AMC.
Odds and Ends
5.11 Tactical's new EVO boot is designed to be supportive, stable, and comfortable. A 1200-denier collar gives the boot added flexibility around the wearer's leg. The platform of the boot is area stitched all the way around for strength and durability, and features a cup-sole construction that includes a number of impact-resistant and comfort foams combined with torsional resistant materials to prevent foot twisting. A removable and washable Ortholite insole provides anti-microbial protection and additional foot comfort.
One of the more unusual products at this year's IACP was essentially a capture system for bodily wastes. Brief Relief makes products that can be used at critical incidents and disaster scenes to provide officers with a private and sanitary means for relieving themselves.
MILO Range demonstrated its new immersive Theater simulator system at IACP, and it wowed a lot of attendees. The Theater is a multiple screen simulator that wraps the student in a training scenario. More importantly, the system features Microsoft Kinect so the scenario reacts to the student's actions, and the view on the screen changes as the student moves.
Officer Protection
Drywired takes the prize for one of the strangest sights at this year's IACP. A video playing in the Drywired booth showed a man firing multiple rounds of AK fire at close range into another man wearing body armor. Obviously the recipient of the rounds was wearing a rifle plate. The plate in question is carbon nanotube armor branded by Drywired as NanoArmor, and it can absorb a lot of punishment. Drywired says its rifle plate can absorb up to 20 shots of high-velocity fire with only 3mm of backface trauma per impact. That performance far exceeds NIJ Level III, the company says.
It's not uncommon to find some cool "better mousetrap" kinds of gadgets on the edges of a major trade show. One such gadget at this year's IACP was the Search Dawg from Safety Search Master, an extendable, all-metal probe that can be used to poke around in places where needles and other sharps wait to ruin your day and maybe your health. The Search Dawg has a hook that can be used to turn out a suspect's pockets, dig into car seats, and poke around in bedding.
Robots and Drones
Aquabotix is taking drone surveillance capabilities under water with the HydroView Pro SLE. The HydroView is basically a remotely operated submersible that can be used to find sunken evidence, locate bodies for recovery, inspect the bottoms of marine vessels, and perform a number of other tasks that normally involve divers. High-intensity LEDs light the depths for the HydroView's camera, which can be tilted using the same wireless controller that controls the sub.
iRobot demonstrated its new uPoint MultiRobot Control system. The uPoint MRC is an Android-based app that standardizes the control of any robot within the iRobot family of unmanned vehicles. Using a range of Android-based tablets, users of the uPoint MRC can operate multiple robots simultaneously. uPoint MRC also simplifies the operation of iRobot machines, as operators can use a virtual joystick on the tablet touchscreen to drive the robot and touchscreen commands to activate the robot's functions.
Vehicle Products
The Solex from Code-3 is a bi-level, low-profile LED light bar system that is 2.5 inches tall. Available in four colors—red, white, blue, and amber—the Solex offers a variety of options, including takedown lighting on the second level, a 100-watt speaker, and traffic emitters. Takedown or alley lights can be multicolor.
Ford and Telogis announced at IACP they are partnering together to develop a telematics solution built specifically for law enforcement agencies. Available early next year, the new solution will be similar to Ford Crew Chief powered by Telogis, an existing commercial vehicle telematics program. However, the law enforcement version will deliver data that is specific to how police vehicles are driven, including when sirens and light bars are activated. The law enforcement telematics system will feature advanced custom dashboards, alerts, scorecards, and reporting.
IntelliSkin from RAM Mounts is a protective system for tablets and smart phones that works in tandem with the company's Tough-Dock mounting system to give users quick-and-easy access to their devices. IntelliSkin shields devices from drop damage and scratches. The protective system also features an integrated connector, which is molded directly into the skin. This prevents damage to the connector from repetitious docking and undocking, which is common in field applications.