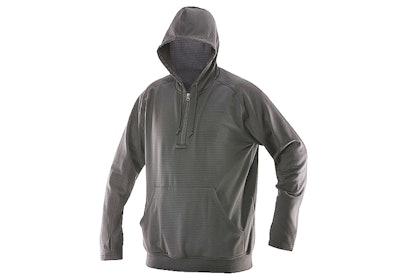 Being prepared to answer the call of duty doesn't always mean we're in a full uniform with a duty belt. Sometimes we have the need to carry a few essential pieces of gear without advertising our mission to the world. Tru-Spec's new 24-7 line of apparel is aimed squarely at this need and offers ultimate comfort with excellent utility.
Starting at the top, the Tru-Spec Grid Fleece Hoodie is a warm and comfortable hooded sweatshirt with a few great features that would make it ideal for undercover work or off-duty concealed carry. The medium-weight Grid Fleece is made from plaited grid jersey knit polyester with just enough spandex to give it a bit of stretch. This keeps the shirt breathable without sacrificing strength and durability. The drawstring hood leads to a quarter-zippered front for easy on and off, and there's a sewn-in mic loop at the bottom if you have the need to take along your radio or clip on a badge. The sleeves are a bit longer than average and include thumb holes to both keep them from riding up and also provide added warmth to your hands, and the bottom waistband is elastic to keep the draft out.
Where the Grid Fleece really stands out from the crowd is in the front kangaroo pocket. The pocket itself is extra-large and would allow the wearer to conceal just about anything shy of a rifle and there are two zippered internal pockets for stowing a variety of smaller items. This would be an ideal space to store a small pistol, knife, or credentials for quick and easy access.
Tru-Spec's new Ascent pants are a solid pairing with the Grid Fleece Hoodie. Every bit as utilitarian as traditional tactical pants, the new Ascent model features a polyester and cotton rib-stop blend that makes for a super soft and comfortable pair of pants that resist wrinkling and provide excellent breathability. The fabric is even treated with a Teflon coating to resist stains and fading. With finer details to the pocket stitching and enclosures, as well as a slimmer, more classic cut, the Ascent pants don't draw a lot of unwanted attention. This doesn't mean they aren't functional. The multitude of pockets for just about every item imaginable, adjustable elastic waist, and pockets for knee pad inserts make them every bit as utilitarian as any other tactical pant out there.
I've spent more than a few days wearing both the Grid Fleece Hoodie and the Ascent pants and I was so impressed with how comfortable both were I almost forgot they were designed to be equally functional. Tru-Spec is known for quality law enforcement and military apparel and these two are par for the course. With a retail price of $70.95 and $79.95, respectively, both are money well spent and will likely last for years.
A.J. George is a patrol sergeant with the Scottsdale (Ariz.) Police Department who also serves as the SWAT team's crisis negotiation supervisor.
Tru-Spec 24-7 Series Grid Fleece Hoodie Specs:
Plaited grid jersey knit 94% polyester 6% Spandex fabric
Quarter-zip center front zipper with mic loop
Spacious hood with drawstrings
Kangaroo pocket with two concealed inside zippered pockets
Hemmed cuff with thumb holes
Knit waistband
Sizes: Small–3XLarge regular
Price: $70.95
Mechanical stretch 6.5-ounce 65/35 polyester cotton micro rip-stop fabric with Teflon coating
Comfort slider waistband construction
Tru-Spec Prym snap with YKK brass zipper
2-inch-wide belt loops with 2.5-inch-wide openings
Gusseted crotch
Reinforced 2.5-inch-wide front knife/flashlight utility pocket
Badge holder on front loop that can be used as a small concealed pocket
Inset cargo pockets and discreet reinforced knees
Easy-access pocket behind each cargo pocket
Internal knee pockets for optional knee pads
Sizes: 28–44 with inseam of 30, 32, or 34 inches
Price: $79.95