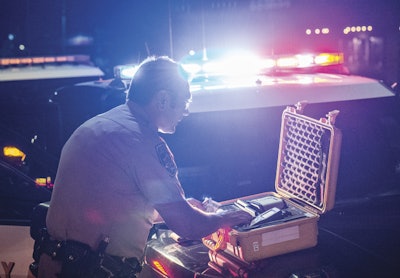 You notice a driver weaving in and out of traffic, so you signal with lights and siren for him to pull over. He definitely seems out of sorts, so you conduct the standardized field sobriety tests, which he fails. But when you administer a breath test, his blood alcohol content (BAC) is way below the legal limit for alcohol–despite his clearly exhibiting signs of being under the influence.
What you have here is most likely a case of "drug driving," which is being reported much more often, especially since several states have legalized marijuana. Now on every DUI stop it's expected that officers be able to recognize the effects of drugs when they encounter impaired drivers, in addition to those of alcohol.
Getting Training
The National Highway Traffic Safety Association (NHTSA) provides guidelines for DUI enforcement training, for both alcohol and drugs. Most officers receive at least basic training in how to recognize and evaluate someone driving under the influence shortly after being hired, if not in the academy. This consists of recognizing symptoms such as glassy eyes, and how to administer standardized field sobriety tests and portable breath tests. This hasn't changed much in recent years.
But now many officers also receive Drug Recognition and Expert (DRE) and Advanced Roadside Impaired Driving Enforcement (ARIDE) training. This training goes into more details of how to evaluate a person's level of impairment and its possible causes. So if an officer who makes a DUI stop doesn't have the training, chances are he or she can call an officer who does to further evaluate an impaired driver.
"We focus on symptomology," says Lt. Glen Glaser, who conducts DRE training for the California Highway Patrol. "Drug categories aren't going to change anytime soon. We're teaching how to identify impairment, not just a specific drug."
And the California Highway Patrol is training quite a lot these days. At any given time, there are between 1,200 and 1,300 DRE-certified law enforcement officers in California, with half of them CHP officers. "We're trying to prepare all California law enforcement," Glaser says.
Det. Chuck Dahlinger, senior officer of the Criminal Investigation Division for the Kalamazoo (MI) Department of Public Safety, believes that although there may be more drug usage, one big reason for more drug driving arrests is that more officers know how to recognize when drivers are under the influence of drugs thanks to enhanced training they didn't receive in the past.
Whichever state you live in, Glaser emphasizes the importance of taking advantage of the training available. Every state has DRE schools, and there is funding to provide the training.
Not everyone should get DRE training, however. "There's a challenge because you don't want the DRE program to expand so quickly that you don't get the highest quality of officers in there," warns Glenn Davis, highway safety manager for the Colorado Department of Transportation. "Not everyone has the engagement to do that type of enforcement."
Saturation Patrols and Checkpoints
Patrol officers are always on the lookout for unsafe drivers and some areas utilize DUI task forces. But the two major focused ways of getting inebriated drivers off the road are saturation patrols and checkpoints. These concerted efforts allow officers to devote time and resources to stopping drunk and drug drivers. They usually take place during major holidays when drinking and partying are expected, as dictated by and coordinated by the state, and state and federal dollars go toward funding the operations.
Arizona is partial to the large-scale saturation patrol. "We will have 80 to 90 officers from eight to 10 agencies work together to arrest people and then book them in the same location," says Alberto Gutier, director of the Arizona Governor's Office of Highway Safety. "We also bring in detention officers to do paperwork and transport offenders to jail. The booking is taken over by the sheriff's office so patrol can get back out there."
For these operations, officers will be out on the road from 8:00 p.m. until 3:00 or 4:00 the next morning, says Gutier. Then they publish the data detailing how many stops and arrests were made by 10:00 that morning. This helps get the word out that there are penalties for driving under the influence.
Arizona is also partial to blood tests to determine blood alcohol levels instead of breath tests. To conduct these tests so often, many officers do it themselves. "We have over 1,000 officers trained and certified in phlebotomy," says Gutier. And if a driver refuses a blood test, the officer electronically submits the results of the driver's breath test to the state court and a search warrant is issued within five to 10 minutes. This program is currently going statewide. "We're very progressive. We're known as a tough state for DUI," Gutier says proudly.
Most agencies rely on others to draw blood. The Long Beach (CA) Police Department usually does this at a jail facility. In Kalamazoo, MI, suspects are taken to area hospitals for blood work, says Dahlinger. "That happens if the subject requests a blood test or refuses the breathalyzer, if we suspect drugs, or if there is a traffic crash," he says.
Checkpoints require many people to be stationed in a fixed location. To ease the burden, the Long Beach Police Department brings in volunteers and Police Explorers to set up and take down the cones and other markers needed during checkpoints, and handle any tasks that don't require a sworn officer.
Dahlinger concedes that checkpoints do a great job of creating public awareness because they are so visible, but he doesn't believe his state is missing out because DUI checkpoints were ruled unconstitutional in his state 25 years ago. "It's very manpower intensive. And now that our officers in Michigan are so well trained, we don't necessarily need checkpoints anymore," he says.
Regardless of the DUI enforcement efforts deployed on the streets by officers, experts agree that public awareness is an essential factor in their success. It can start with convincing people to not get behind the wheel in the first place.
Public Awareness Campaigns
"In Arizona you'll see billboards on all freeways, and electronic message boards, especially during holidays. It's a deterrent," says Gutier. Social media, television commercials, and press releases are other ways to promote the anti-DUI message.
Many agencies now take this even further. For instance, in Arizona, officers will visit local bars and festivals and let patrons test their blood alcohol level for free just to make them aware of how impaired they are. At first people were afraid to try it, but now that they've gotten used to seeing it, they're more willing to take advantage of the service. And hopefully they are more aware of just how easy it is to become intoxicated.
Other agencies promote the use of taxis and ridesharing. "I have seen success in a partnership with Western Michigan University where they provide 'safe ride,' and some fraternities providing the same service," says Kalamazoo's Dahlinger. In Colorado, the Department of Transportation went so far as to create a partnership with both Uber and Lyft.
Also in Colorado, officers work with local marijuana dispensaries, asking owners and workers to display anti-DUI posters and talk to their customers about the dangers of getting behind the wheel when impaired by the drug. Davis says most are very receptive because they, too, want to keep people safe and are eager to get the word out.
"I think where we were with people not recognizing the dangers of drinking and driving 30 or 40 years ago, we're at the same point with marijuana. But we'll have to have people open their eyes much faster," says Glaser.
Dahlinger is fully behind every effort to get impaired drivers off the roads, in whatever form. "The bottom line is it saves lives," he says.