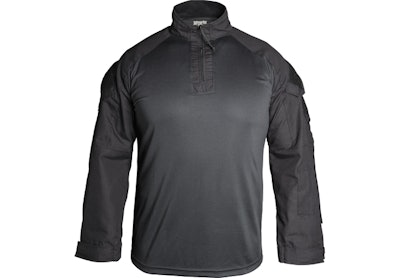 Gone are the days of wearing sweaty T-shirts or button-down BDU blouses under your body armor. If you wear heavy armor for a living odds are you've suffered through more than one range event wearing this stuff. Thankfully someone decided to put an end to that misery and invented the trusty "combat shirt." With a moisture-wicking torso and ruggedized sleeves, these shirts keep you cool and dry under your vest while protecting your extremities. Vertx has thrown its hat in the ring as well with its 37.5 Combat Shirt, and it only took me a few hours with it tucked under my heavy armor to know Vertx had gotten it right.
The new combat shirt features Vertx and Fechheimer's proprietary dual fabric blend they call "37.5 Active Particle Technology." The "37.5" stands for the optimal point of humidity and body temperature (in Celsius of course) and means no matter the conditions, the form-fitting torso fabric regulates both to keep you cool, dry, and comfortable. Heat exhaustion and dehydration are common amongst hard-working tactical teams and anything that helps keep the medic and his IV away is a good thing. Although I tested this shirt in the wintertime it felt noticeably different than my other combat shirts and really did a nice job of keeping me comfortable even after a few hours in my armor.
This combat shirt's sleeves are a more rugged cotton rip-stop fabric and feature two large upper-arm pockets with Velcro patches, adjustable Velcro cuffs, a couple pen pockets, and reinforced elbows. Compared to my other combat shirts, the sleeves of the Vertx seemed to have a bit more room, a nice feature that allowed for better range of motion. The quarter-zip collar is lined with a suede-like material that I initially thought was out of place, but it did an amazing job of protecting my neck against chaffing and irritation from my shoulder straps and rifle sling. This is a great feature I've yet to see on any other combat shirt.
The 37.5 Combat Shirt retails for just under $110 and comes in your choice of black, OD green, smoke grey, or desert tan. It is comfortable, functional, and if it is anything like Vertx's other gear it'll likely last you a very long time. If you're still suffering under a T-shirt I think it's time to join the 21st century and pick up one of these from Vertx. You'll be glad you did.
A.J. George is a sergeant with the Scottsdale (AZ) Police Department assigned to the Technical Operations Unit, Special Investigations Section.
Vertx 37.5 Combat Shirt Specs:
Added fabric space in rip-stop cotton sleeves
Double-reinforced and double-articulated elbows
Dual-loop VELCRO bicep pockets
Additional pen pocket ergonomically located inside each bicep pocket
Quarter-zip suede collar yields extra neck and throat protection against chaffing
Material: 37.5 Active Particle Technology in torso fabric
Colors: Black, smoke grey, olive drab green, and desert tan
Sizes: Small, medium, large, extra-large, 2XL, 3XL
Price: $109.95