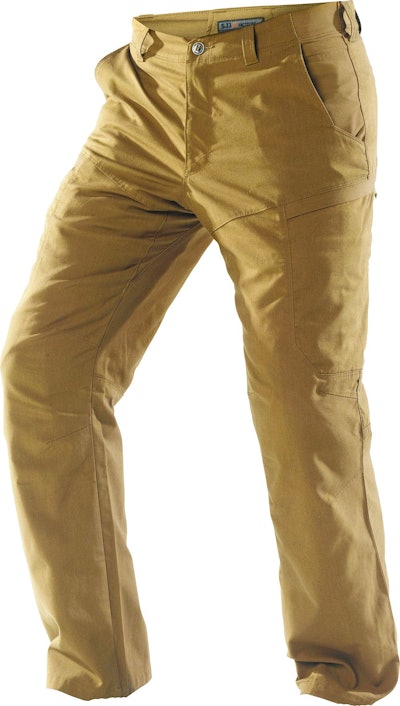 Tactical pants, or BDUs as they're more commonly called, are a dime a dozen these days. There are a million different styles, colors, and price points to consider when you're in the market for your next pair of work pants. 5.11 Tactical has made quite a dent in the law enforcement clothing market and offers a pair of tactical trousers for just about any mission. One of the company's newest offerings, the Apex Tactical pants, combine a few of the more critical capabilities of traditional BDUs in a pant that is cleaner looking and more comfortable than the norm.
Made with what 5.11 has dubbed its Flex-Tac stretch canvas material, the Apex pants are solidly built yet have enough stretch to make them very comfortable. The 7.2-ounce fabric also does a great job of allowing airflow to keep you cool and dry. The waistband features an elastic flex material for comfort and seven belt loops with heavy stitching to support a variety of belt-mounted gear. There are even slots for flex-cuffs and a hidden handcuff key, and a sturdy YKK zipper keeps it all together.
The key feature of any tactical pants is the pockets and the Apex pants don't disappoint here either. The front side pockets are deep and the openings are reinforced to prevent ripping and excessive wear from a knife clip. The rear pockets are open-top, similar to a pair of jeans, but doubled up to accommodate M4 magazines. Basically, there's a pocket sewn over a smaller pocket to carry twice as much stuff. The side cargo pockets are also deep and roomy with smaller compartments sewn into the interior to keep everything neat and organized. The zip closures are hidden under a clean flap, which almost makes the pockets disappear; a nice feature if you're trying to be discreet or even if you just want to wear these in a more professional setting.
These have become my go-to pants for daily duty wear and I've been very happy with them. Aside from the features above, the fit of the Apex pant is a slimmer, more athletic cut perfect for those of us who make an effort toward staying fit and don't need the abundance of room some BDUs seem to offer these days. They're clean and professional without sacrificing functionality. If you're looking for a great pair of tactical pants I'd recommend you check out the 5.11 Apex Tactical pants. With seven different color choices and a retail price of $79.99 I'm sure you'll be as impressed as I am.
5.11 Tactical Apex Tactical Pants
Multiple pockets
Teflon treated to repel stains, soil, and moisture
Fully gusseted crotch
Comfort waistband
Articulated knees
7.2-ounce Flex-Tac mechanical stretch canvas
Genuine YKK zipper hardware
Colors: Black, dark navy, TDU Green, Battle Brown, khaki, Storm, and Tundra
Price: $79.99
A.J. George is a sergeant with the Scottsdale (AZ) Police Department assigned to the Technical Operations Unit, Special Investigations Section. He has more than a decade of law enforcement experience in patrol, field training, and traffic enforcement.