About eight years ago, the National Institute of Justice changed its certification protocol for body armor. The new certification process, known officially as NIJ Standard 0101-06 (for sixth iteration, not 2006), was a reaction to failure of armor incorporating a fiber called Zylon that had passed the earlier process and is now banned. So NIJ really amped up the intensity of the testing required on each body armor design before it would receive the Institute's seal of approval.
Response from the leading makers of law enforcement body armor to the 06 standard was pretty much "OK. We can do this, but it ain't gonna be pretty." Industry experts said at the time that the 06 standard would result in armor that was heavier, stiffer, and more uncomfortable than what was then on the market. (See "Unintended Consequences" in POLICE November 2009.)
And that's exactly what happened with the first generation of armor that was produced to meet the 06 Standard. "The industry's kneejerk reaction to the new standard was to over-engineer," admits Mike Foreman, EVP of international business development for Point Blank Enterprises.
One of the reasons that the ballistic packages in the first 06-certified vests had to be so comparatively heavy and stiff was to pass the new protocol for backface deformation. That's the trauma the person wearing the vest experiences even when the bullet doesn't penetrate and it's determined by the depth of the bulge on the back of the vest; reducing backface deformation can mean the difference between a bruise and a more serious injury.
The difference between "backface" testing in the 05 Standard and the 06 Standard was the amount of material to be tested. This made it much harder for manufacturers to meet the requirements for IIIA vests, which must defeat .44 Magnum rounds. The result was that many of the NIJ 06-certified IIIA vests weighed more than 1.5 pounds per square foot and were slightly less stiff than a wood sheet.
Today, just seven years later, body armor manufacturers have achieved what they once thought was impossible: The second generation of 06 Standard-certified vests includes II and IIIA armor that weighs less than a pound per square foot while offering remarkable flexibility.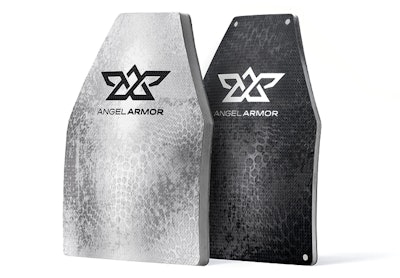 New Materials and Designs
The second generation of 06-certified body armor arguably debuted at the 2013 International Association of Chiefs of Police conference and trade show when Point Blank introduced a product line called Alpha Elite. The launch was not just about the armor, it was also about one of the materials used to make the armor: DSM Dyneema's Force Multiplier Technology.
Force Multiplier is Dyneema's latest spun ultra-high-molecular-weight polyethylene fiber, which is not only flexible but also stops bullets with fewer layers of material than many ballistic fibers.
Since 2013, Force Multiplier material has become a major component in many brands of body armor. But true second-generation 06 armor is rarely built of one fiber.
Body armor manufacturers also say it's not just about the fibers, it's how they are combined. Certain fibers are stronger in a single direction. These unidirectional fibers are layered into the vest to take advantage of their strongest position and to enhance their ability and the ability of the other fibers to slow down, stop the bullet, and dissipate its energy to reduce backface trauma. "That's why you can take a vest and turn it upside down and shoot it and get a very different level of performance," says Georg Olson, general manager of U.S. Armor.
"Material sciences and body armor manufacturer capabilities have improved significantly," says Matt Davis, CEO of Armor Express. "That's why we are now in a much better position than where we were eight years ago in terms of offering lightweight, high-performing body armor solutions."
Many of the leading body armor manufacturers have invested millions in research and development in the search for better ways to combine various layers of fiber in their vests. "To achieve breakthroughs in body armor construction takes years of hard work," says Olson. "The R&D process is rooted in trial and error with a lot of different materials and designs."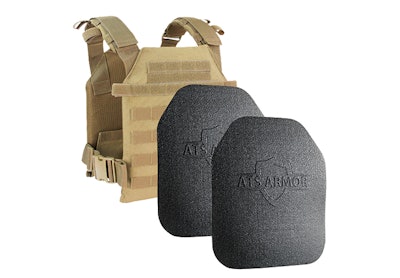 Second-Generation Soft Armor
All of that research into the capabilities of different materials has yielded an impressive collection of innovative armor for law enforcement patrol operations.
Angel Armor introduced its new Rise armor in January. Rise is available in NIJ 06-certified Level II and Level IIIA packages in two configurations: Ultra Premium and Premium for men and women. The Ultra Premium IIIA weighs .97 pounds per square foot, is a little less than a quarter-inch thick, and is rated to stop a variety of FBI Special Threat rounds. The Rise carrier uses the company's QuadCore Attachment System to prevent sagging and a proprietary belt attachment system that features low-profile metal hooks instead of Velcro.
Armor Express offers an ultra-thin, lightweight armor package trademarked as Razor. In Level II it's .14 inches thick and weighs .67 pounds per square foot. The IIIA Razor package is .21 inches thick and weighs .93 pounds per square inch. Razor is constructed from a combination of Dyneema Force Multiplier and Teijin woven aramid.
Point Blank sells a variety of Alpha Elite armor packages in Level II and Level IIIA. The armor, designated by AX on Point Blank's model numbers, uses Dyneema's Force Multiplier Technology and is extremely lightweight. Level II packages are available at .63 pounds per square foot, and Level IIIA Alpha Elite armor ranges in weight from .87 pounds per square foot to .79 pounds per square foot.
Safariland debuted its new Safariland Armor collection at this year's SHOT Show. The idea behind the collection is that the company offers five different ballistic packages that fit all of the company's carriers. SX is Safariland's top-of-the-line armor package. The Level II SX weighs .59 pounds per square foot and is .16 inches thick. The Level IIIA weighs .83 pounds per square foot and is only marginally thicker than the Level II.
U.S. Armor says officers should forget about previous experiences with NIJ 06 armor when considering the company's IIIA Enforcer 6000. U.S. combined fibers from Dyneema, Honeywell, and DuPont to create this ballistic package. It is .32 inches thick and weighs .99 pounds per square inch. For enhanced comfort, buyers have the option of a carrier that incorporates a cooling fabric used by NASA.
Comfort Factors
The weights for the second-generation 06 armor listed above and competing products are significantly lighter than could be found in armor products offering the same levels of protection five years ago. But there is much more involved in making soft body armor more comfortable than just lightening the load.
First there's actual physical and perceived weight. "A lot of perceived weight is all about the distribution of the armor package's weight inside the carrier," says Dave Goldfain, director of sales and marketing for Angel Armor. "A lot vests the way they are designed they ride on the duty belt, which is very uncomfortable. We addressed that in our design. We suspend that ballistic package by straps on the top rather than have the weight of the ballistic package sagging inside the carrier and pulling down on the entire system."
Tim O'Brien, Safariland director for soft armor, believes flexibility is the key to making vests more wearable when the officer needs to move faster. "Officers have a very dynamic job," he says. "We [in the body armor industry] need to treat them like they are athletes and supply them with equipment that both protects them and complements and enhances their capabilities."
Flexibility is not determined solely by the material used in the construction of the armor. Even the softest, most flexible fabric can be made rigid and hard if it is assembled with too much heavy stitching. O'Brien says he is very proud of what Safariland has accomplished with its SX armor. "You are getting that reduced weight and that performance with hardly any quilt stitching and hardly any stiffness designed into the vest. We could have achieved the lighter weight years ago, but it would have been so stiff that no officer would have wanted to wear it."
Another comfort factor is how the vest is worn. Most body armor makers and a number of police apparel makers now offer carriers that are designed to be worn over the officer's uniform shirt. The reduction in heat is considerable, and some overt carriers also offer MOLLE and other connections for pouches and equipment so that officers can lighten the load on their duty belts.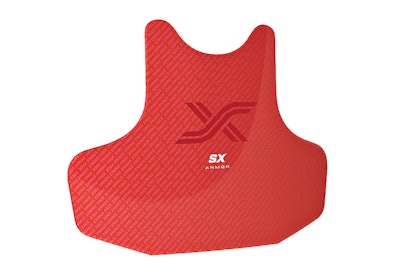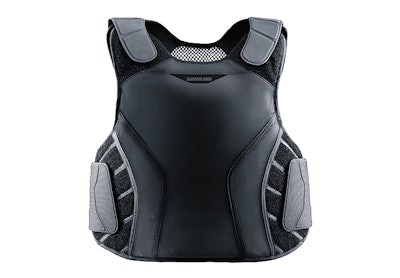 Adding Protection
Body armor manufacturers say that officers are looking for improved comfort in their armor, but they also want as much protection as practical. That's why even though the level of protection offered by some of the extreme lightweight Level II armor approaches that of previous generations of Level IIIA armor many officers and agencies still want the heavier Level IIIA vests.
It's also why a startup body armor company in Las Vegas called Safe Life Defense is actually marketing a comparatively heavy Level IIIA vest that offers additional areas of coverage plus slash protection. One of the major selling points of the Safe Life Defense vest is that it provides enhanced side protection.
Regardless of the soft armor they wear, one way officers and some agencies are enhancing their protection when responding to critical incidents such as active shooters is by adding hard armor to defeat rifle rounds.
Hard armor was once prohibitively bulky and heavy for patrol operations, with steel plates weighing as much as eight pounds each. Now through the application of ultra-heavy-molecular-weight polyethylene materials, the latest soft body armor plates are becoming extremely lightweight and capable of absorbing numerous shots from AK-47 and AR-15 variants. Which makes them more suitable for patrol officers responding to shootings.
ATS Armor, one of the leading manufacturers of lightweight hard armor solutions for law enforcement, recently sold 500 Active Shooter kits to the Miami-Dade Police Department. The kit consists of front and back plates and a carrier that goes over the officer's shirt. "The Active Shooter kit lets officers responding to an incident get out of the car and throw it on very quickly. So they have that rifle protection," says Tom Smith, co-founder of ATS Armor. The plates weigh about three pounds each and Smith says officers wearing them have forgotten they have them on. "That's the greatest compliment we can get," he adds.
Of course in an ideal world officers would have rifle protection at all times on patrol. Which is at least one aspect of Angel Armor's plate concept.
Angel Armor's Truth Snap plates are designed to work in conjunction with the officer's soft armor and provide protection from rifles up to 5.56mm. The modular system consists of two plates. The Truth 47 is a roughly 1.5-pound (depending on cut) special threat plate that provides protection from a number of high-powered pistol rounds and the AK-47's 7.62x39mm in the 123-grain FMJ configuration. It is intended to be worn at all times by the officer. The Truth 44 weighs about the same as the Truth 47 and offers additional protection from hot .44 Magnum loads. But the really interesting thing about the Truth 44 is it is designed to magnetically snap together with the Truth 47 and create a plate that in conjunction with the wearer's soft body armor can stop 5.56mm rifle fire. So for about six pounds of additional weight an officer can add front and back rifle protection before heading into something nasty. The Truth Snap system works with any soft body armor that can accept the addition of hard plates.
Looking Forward
The ultimate soft body armor innovation will be the day officers can wear lightweight shirts that stop armor piercing rifle bullets. Sadly, that's a long way off. But advances in ballistic fibers are coming.
And every industry expert contacted for this article said the limits of weight reduction, wearability, and protection offered by the latest ballistic materials for both hard and soft armor have not been defined.