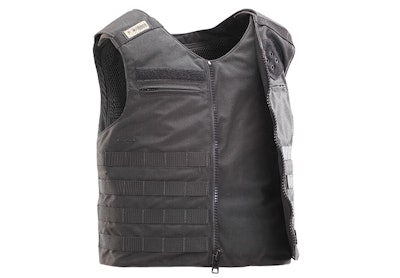 Body armor has come a long way since the first Kevlar panels were introduced decades ago. Today's body armor systems for law enforcement are lighter, stronger and more comfortable than ever. And just as we've adapted to the changing needs of our profession, so has the gear that keeps us safe.
Point Blank has been along for the ride almost since the beginning. They're no stranger to ballistic protection. One of their latest products is aimed squarely at the need for a more utilitarian approach to body armor while not sacrificing a professional appearance or adding unnecessary bulk. Think of something detectives might wear over their business attire when responding to an active scene: simple armor protection that provides identification and is customizable to the needs of the officer. With two zippered breast pockets, two concealed Velcro pockets, and several rows of MOLLE there is ample real estate and storage for just about anything you'd need for a medium-duty application. Keep in mind, this isn't a true load-bearing vest so things like weapons and other bulky gear are best reserved for a more specialized platform.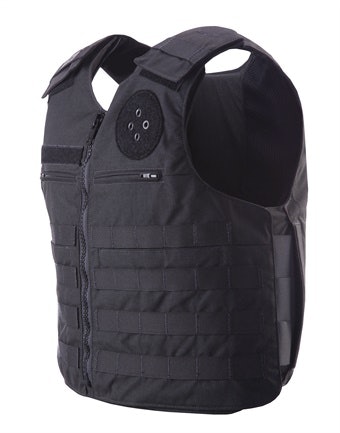 The Guardian is built around soft Level IIIA panels and will also accept rigid plates for additional protection. The front zip opening allows the wearer to quickly and easily don and doff the vest without having to lift it over the head and without sacrificing the protection of a solid front plate. Simply tuck the front panel across the torso and into the opposite side of the vest and zip up the front flap to hold everything in place. Traditionally, front zip vests utilized a split panel design that produced a gap in the center of the chest, an obvious safety hazard. That's not a concern here.
I rigged my Guardian with a utility pouch for handcuffs and a tourniquet, two pistol magazine pouches, a flashlight pouch, and radio pouch. With the integrated cable routing openings I was able to thread an earpiece cord with ease and conceal all of the wires for a clean look. Adding Velcro POLICE patches and a badge patch to the front and back loop panels provides great identification and rounded out the package. The Guardian was more than robust enough to handle all of that gear without sagging and was very comfortable.
If you're looking for that happy medium between heavy and bulky tactical armor and a concealable patrol vest, the Guardian might fit your needs perfectly.
A.J. George is a sergeant with the Scottsdale (AZ) Police Department assigned to the Technical Operations Unit, Special Investigations Section.