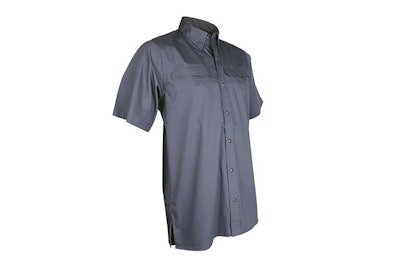 Tru-Spec is a "tru" player in the tactical clothing and gear field. They make some of the most durable and stylish clothing and uniforms for law enforcement, the military, and even casual wear. The company's latest Delta pants and Pinnacle shirt from its 24-7 Series line combine some of the best of both worlds to create a shirt and pants that are as functional as a duty uniform yet stylish and comfortable enough for everyday wear.
First up is the Pinnacle button down shirt. Available in standard sizes with color options of black, khaki, and grey, the Pinnacle is constructed of a 4.25-ounce polyester and cotton blend, which not only prevents shrinking and fading but also gives the Pinnacle a very comfortable stretch for enhanced range of motion. The snap-front allows the wearer to quickly separate the front of the shirt to access a weapon or, if nothing else, makes it easy to take on and off. There are two front breast pockets that are mesh lined for maximum breathability and wide flap closures for easy access to the goods inside. The back is vented behind the shoulders and there is a v-split at each hip for comfort. Tucked or untucked, the Pinnacle is a truly stylish and very comfortable shirt.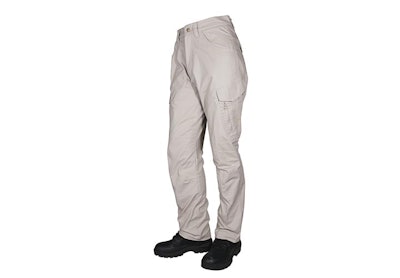 Now for the Delta BDU pants. Available in standard sizes with color options of black, khaki, and coyote, the Delta pants are constructed of a cotton and spandex blend. This gives them a very comfortable stretch while being soft and breathable right off the rack. From top to bottom the Delta pants feature a traditional fitted waist with silicone lining to keep your shirt tucked in. The front and side pockets both incorporate interior pockets for magazines and knives and there is a zippered closure on the left side for easy access to the gear inside. The back pockets have flap closures, the crotch is gusseted, and the reinforced knees feature pockets for internal kneepads.
The Pinnacle shirt and Delta pants are both available now direct from Tru-Spec and considering the features they both bring to the table they're a heck of a deal.
A.J. George is a sergeant with the Scottsdale (AZ) Police Department assigned to the Technical Operations Unit, Special Investigations Section. He has more than a decade of law enforcement experience in patrol, field training, and traffic enforcement.