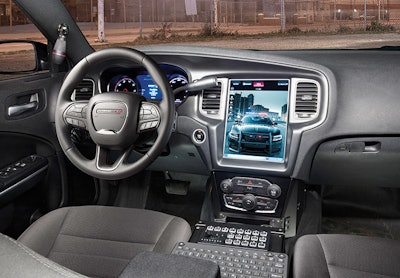 There are years when the International Association of Chiefs of Police conference and trade show seems to have an unofficial theme. It's all about body-worn cameras, or it's all about vehicles, or it's all about body armor. This year's IACP show held in San Diego from Oct. 16 through Oct. 18 didn't really have a theme. Which in some ways made it more interesting.
If there was a trend at this year's IACP, it was virtual reality. But it's not a product trend. At least not yet. Neither company—TASER nor Motorola Solutions—that was showcasing VR at the show had an IR product that it was ready to market.
For the last few years, TASER has made a huge splash at IACP with dinosaurs and other attractions. This year TASER introduced its new Axon Flex 2 body-worn camera (see page 34 for more information) with a VR experience that showed the capabilities of the system and how it can quell controversy in a use-of-force scenario. Attendees were lined up down the aisle of the TASER booth, waiting in line for their turn to go in and put on the VR headset and learn how TASER is working on a next-generation reporting system that has the potential to replace written reports.
You could also put on a VR headset in the Motorola (www.motorolasolutions.com) booth, but the experience and the purpose were very different. Motorola was actually showing a high-tech VR product that it hopes to market in the near future. Motorola's virtual reality command center solution that was shown at IACP is essentially a proof of concept. The VR command center lets an incident commander view the scene, receive information from a number of different data streams, and direct resources with VR and eye-tracking technology. Motorola touts this as the technology of the future. We'll see.
Here's a look at some products shown at this year's IACP that are available now or will be early next year.
Vehicles and Accessories
Chrysler—At any trade show the talk among many of the attendees is often about the coolest, most interesting product at the show. At this year's IACP one of the coolest was a 12.1-inch vertical display screen. It was cool not because of the quality or capability of the screen but for its implications. The display in question, UConnect, is mounted in the dashboard of a Dodge Charger Pursuit, and it has the potential of changing the way computers are mounted and used in patrol vehicles. UConnect is networked with a trunk-mounted computer of the user's choice. This gives users the benefit or reducing the amount of equipment inside their vehicles. Access to the trunk-mounted computer is through a keyboard inside the passenger compartment. The touch screen display can be operated by users wearing gloves. www.fcausfleet.com
Cradlepoint—A lot of the products on display at IACP are high-end tech systems for vehicles, including computers and the software they run. But without connectivity to the Web and other networks, many of these tools would be useless. Cradlepoint makes products that enhance network connectivity. Cradlepoint's multi-WAN platform allows law enforcement agencies to deploy software-defined wireless networks. www.cradlepoint.com
Federal Signal—This well-known law enforcement product maker showed its new PT Series prisoner transport module. The PT Series fits a variety of vehicles and features polymer seats, a V-drain that allows fluids to flow out the bottom of the vehicle, and window guards. The innovative safety belts can be secured without leaning over the prisoner, which improves officer safety and they can be fastened much quicker than standard safety belts. www.federalsignal.com
Harley-Davidson—The Milwaukee-Eight Engine is the news out of Harley. The company says the new Milwaukee-Eight Engine, the ninth generation of the company's Big Twin engines, is the most powerful and coolest-running engine it has ever produced. The new engine produces 10% more torque than its predecessor for a substantial increase in 0 to 60 mph acceleration and 60 to 80 mph acceleration. Suspension, braking, controls, and gauges have also been reworked. www.harley-davidson.com
Xtreme Green—The debut of the XForce Pro UTV was the big news from Xtreme Green at this year's IACP. This new electric all-terrain vehicle was designed specifically for law enforcement and can run 60 miles on a single charge of its lithium ion phosphate battery system. There's also an option for a 100-mile-per-charge extended capacity battery. The new XForce Pro UTV features a new suspension, heavy-duty braking system, and chassis. www.xgev.com
Evidence Capture
10-8 Video—Fayetteville, TN-based 10-8 Video showed its line of in-car and body-worn video systems. The in-car line includes a four-channel HD DVR, HD cameras, wireless mics, and mirror monitors. 10-8's body camera system is built in to a radio microphone that replaces the user's current radio mic. The company says its system offers universal radio compatibility and one-touch record. Local, on-site, and cloud storage is available. www.10-8video.com
Coban Technologies—Coban introduced its new Focus X1 body-worn camera at this year's IACP. The Focus X1 is a variable resolution BWC, offering 1080p, 720p, and 480p settings. It has a 160-degree field of view and can capture video in low-light conditions witwh .05 lux sensitivity. Battery runtime is 12 hours or more continuous. The system can be configured to be triggered by vehicle sensors such as activation of the light bar or siren or opening of doors. One of the more interesting features on the Focus X1 is that it alerts the user via vibration or audible warnings about battery life, connectivity, and storage. The Focus X1 is compatible with Coban's in-car video systems for viewing, tagging, and uploading, and it can be replace the wireless mic for the in-car system. www.cobantech.com
Digital Ally—The DVM-800HD was the big news out of Digital Ally's booth. This new in-car system records at full 1080p HD resolution, capturing five times as much detail as standard D1 video resolution and twice as much detail as 720p HD systems. The DVM-800HD's camera has an F1.8 aperture and a 67-degree field of view. Full 1080p video files can be large enough to present significant storage issues, but the DVM-800HD uses video compression and multiple bit rates to mitigate this concern. An increased storage capacity of 256GB now comes standard on the DVM-800HD. The DVM-800HD is Digital Ally's first system to offer an end-to-end cloud–based video solution, including case management and video redaction tools. www.digitalallyinc.com
Genetec—Genetec brought its AutoVu SharpV automatic license plate recognition (ALPR) to this year's IACP. The SharpV is designed for both mobile and stationary ALPR systems, and it can be used in security systems to open gates based on license plate information. Features include: onboard processing, varifocal lenses, built-in illumination for low-light operation, and concurrent MJPEG video compression and JPEG still image compression for improved ALPR accuracy. www.genetec.com
Getac—Irvine, CA-based Getac showed its new Veretos body-worn camera. The Veretos BWC has a 120-degree field of view, and captures evidentiary video in full HD resolution. Battery runtime is more than 12 hours with 24 hours of standby time. Data storage is 64GB. Users can set a 10-, 20-, or 30-second pre-event record buffer. The Veretos is ruggedized to MIL-STD-810G for vibration and drop and rated IP67 for moisture resistance, which means it can survive heavy rain and even immersion to a depth of one meter. www.getac.com
Kustom Signals—Lenexa, KS-based Kustom Signals showed its Eyewitness Vantage body-worn camera system. The vantage has a 120-degree field of view, and users can select resolution ranging from 1080p to 480p. Pre-event recording is configurable to 30 second. An extended battery is available for up to nine hours of record time. The Vantage integrates with Kustom Signals' Eyewitness HD for wired or wireless transfers of files so that officers don't have to turn in their cameras at the end of their shifts. Kustom Signals' in-car systems can also trigger Vantage recordings and Vantage can trigger the in-car systems. www.kustomsignals.com
L-3 Mobile-Vision—The BodyVision XV is the newest evidence capture tool from L-3 Mobile-Vision. This body-worn camera offers a 110-degree field of view, 720p HD resolution, nine hours of continuous battery life, automatic evidence upload, and multiple mounting options. Users can also capture still images and mark trace points with the click of a button. www.mobile-vision.com
Patrol Witness—Evidence capture system manufacturer Patrol Witness showed a variety of products, including its PR1ME Witness body-worn camera. PR1ME Witness integrates fully with the company's in-car PW6 video system, and offers at least seven hours of HD recording. Features include a pre-record buffer, rugged construction that meets IP54 and MIL-STD810G, and a three-button operation design. Files automatically download when connected to a computer and can be stored on a local server or in the cloud using Patrol Witness' Video Evidence System. www.patrolwitness.com
Safariland—At last January's Shooting, Hunting, and Outdoor Trade (SHOT) Show Safariland showed the fruits of its 2015 acquisition of Vievu, the Camera Activation System, which activates a Vievu body-worn camera when the wearer draws a weapon from a Safariland 7TS holster. At IACP, the company showed an improved version of the product. The link works with Level II and Level III Retention models of the 7TS and the Vievu LE4 body-worn camera. The Vievu LE4 offers a 95-degree field of view and 12-hour continuous HD recording. www.safariland.com/cas
TASER—TASER announced its Axon Flex 2 officer-worn camera at this year's IACP. The Axon Flex 2 offers multiple point-of-view mounting options and a more rugged construction than the Axon Flex. Field of view is 75 degrees to 120 degrees with a video resolution of 480p to 1080p. A pre-event buffer can be set from 0 to 120 seconds, depending on agency preference. www.taser.com
Utility—At IACP Utility showed its latest product for its BodyWorn evidence capture system, a crime scene documentation tool called Smart Scene 360. The technology allows users to capture a 3D digital model of a scene for later review in virtual reality. Smart Scene 360 is now included in the Utility BodyWorn suite of products at no extra charge. www.bodyworn.com
WatchGuard Video—Texas-based WatchGuard Video showed its integrated in-car and body-worn camera system. The system consists of the Vista WIFI HD body camera and the 4RE HD in-car video system, and the Evidence Library 4 Web. WatchGuard's Vista BWC offers six or nine hours of HD recording time with selectable 720p or 480p resolution in the standard capacity version and nine hours of recording time in 720p or 10 hours in 480p in the extended capacity version. Features include the WatchGuard proprietary locking chest mount and Record After the Fact, which means the camera continuously records even if an event is not triggered and this data can be recovered up to 38 hours after the incident. www.watchguardvideo.com
Gear and Equipment
Cerberus Black—This U.K.-based company came to this year's IACP to show its A-WASP (Acoustic Warning Signal Projector). The A-WASP is a tool for communicating in crowd control/unrest situations, so it is extremely applicable to contemporary American law enforcement operations. It can send live messages, warning tones, and pre-recorded messages in a variety of languages out to distances of more than 800 feet. The system does not harm the hearing of people in the area and conforms to U.S. health and safety regulations. A-WASP can be used in a variety of law enforcement operations, including crowd control and hostage situations, and it records data of each use for documentation and liability mitigation. www.cerberusblack.com
Pi-lit—One of the most unusual products on display at this year's IACP was the sequential road safety flare. The "smart flare" from Pi-lit has been nicknamed the "Ice Cream Sandwich" by the company. It consists of a rugged shell and LED lights that are powered by four AA batteries with a runtime of three to four days of continuous use. The flares can be radio linked for sequential flashing activation to guide traffic around an incident and can be all turned off with a single button. www.pi-lit.com
Tuff Products—Chula Vista, CA-based Tuff Products makes a variety of rugged pouches and bags for law enforcement. At this year's IACP, the company showed its Grenadier Bag, which is a designed to help mobile field forces and tactical teams carry an organized collection of flash-bangs, sting ball devices, and 40mm grenades on their operations. The bag features Mil-Spec webbing with a triple-retention polymer buckle and a MOLLE side panel for customizing. It is constructed of double layer Cordura fabric. www.tuffproducts.com
Protection
ATS Armor—New lightweight ballistic shields were on exhibit in the ATS Armor booth. The Patrol Shield is 20x30-inch shield that offers NIJ Level IIIA protection at a weight of 5.5 pounds. The Tactical Shield is also 20x30 inches and at NIJ Level III offers multiple-shot protection from a variety of rifle rounds and weighs 17.5 pounds. Both shields have a proprietary ambidextrous suspension carrying system that lets users operate their weapons with both hands. www.atsarmor.com
FLIR—Wilsonville, OR-based FLIR is best known for making the forward-looking infrared devices that give the company its name, but the company also makes hazard detection tools. At IACP FLIR showed the identiFinder R100 personal radiation detector. The R-100 is networkable and can be worn on officers' belts to detect and alert them to radiation threats. FLIR says the R-100 is the most rugged personal radiation detector on the market. It is rated IP67 for moisture resistance and meets the 1.5-meter drop requirement for ANSI certification. www.flir.com
Phalanx Defense Systems—This Gainesville, FL-based company showed its new line of covert armor that looks like a brief case, a backpack, or small bag like a gym bag before it is deployed. The Rapid Deployment Armor deploys quickly and offers NIJ Level IIIA protection. Features include hard armor pockets, attachment panels for ID on both front and back. www.phalanxsystems.com
Software
Cardinal Tracking—Lewisville, TX-based Cardinal Tracking brought its Mobile Cite e-citation system to IACP. Mobile Cite is a user-friendly system that runs on handheld or laptop computers and integrates seamlessly with the company's BADGE and COURT to reduce data entry. Features include: simple screen design for faster citation issuance; pre-defined lists for easy selection of violations, locations, and makes/models; scanning of driver license and vehicle registration; officer and offender signature capture; still image capture; and quick sketch diagramming tool. www.cardinaltracking.com
Geosafe—An Austin, TX-based maker of collaborative software for first responders showed its Mobile tool. Geosafe Mobile operates on iPad, iPhone, and PCs and gives users detailed information on all first-response calls in their area, including law enforcement, fire, emergency medical, and animal control. Users can monitor the status of each unit and share information between multiple agencies and communicate via chat. In addition, users can access national databases about vehicles, subjects, and even articles. Agencies can go to Geosafe.com for a free trial.
Media Sonar—Canada's Media Sonar came to IACP to show its social media intelligence gathering tool. Media Sonar is a Web-based analytics and reporting tool that offers users the ability to aggregate, filter, and analyze social media data. Users can set up a geo-fence and look for information from the 10 most popular social media platforms in that area. www.mediasonar.com
Mobile PC Manager—This Oklahoma-based company showed a Windows software tool that is sure to be popular with chiefs and sheriffs concerned about their officers and deputies driving while distracted. ScreenSafe is a tool that lets agencies limit what officers can do with their in-car computer while driving. In emergency situations the officer can override the controls, but any override is recorded for supervisory review. The software is customizable to meet agency policy requirements. www.mobilepcmanager.com