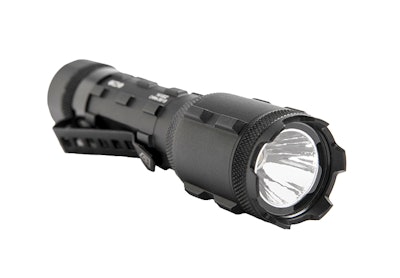 If there's anything I've learned over the last 12 years in law enforcement it's the value of having multiple flashlights. If you rely on just one it'll inevitably be either dead or out of reach when you need it. Because of this I've got a flashlight stashed in virtually every piece of gear I own including belts, packs, cars, and gun cases. This doesn't mean you have to run out and spend a fortune buying top-of-the-line flashlights to get a solid piece of gear. Over the years flashlight technology has made incredible advancements and today's lights are brighter, lighter, and cheaper than ever before.
Enter First Tactical's Small Duty Light. This little anodized aluminum light weighs in at just under 4 ounces with batteries and spits out 161 lumens of clean LED light. It is about four inches long and about an inch wide so it is small enough to stash just about anywhere yet just large enough to fill the palm of your hand for a solid grip. In the low setting the SDL will give you 15 lumens of light, enough for close administrative tasks. The best part? The SDL runs on just one standard AA battery so no need to stock up on those pricey lithium CR123s.
The Small Duty Light comes with a handful of accessories that make this a very versatile light. The robust pocket clip is reversible for either up or down pocket orientation. This not only allows the user to customize the way they carry the light, but also creates more configuration options for the included elastic finger loop. The loop itself is made of bungee material strung through an ergonomic plastic finger cup and is the perfect size and shape for various shooting applications. Finally, the SDL comes with two bezels: one smooth for snag-free carry and the other with raised teeth for use as a defensive tool.
At only $39.99 the Small Duty Light by First Tactical is a very versatile and solid light that'll meet your needs but won't kill your wallet. For that price you could pick up a couple of them and maybe the next time you need a flashlight you'll have one handy no matter where you are. Check it out along with First Tactical's many other lights at www.firsttactical.com.
A.J. George is a sergeant with the Scottsdale (AZ) Police Department assigned to the Technical Operations Unit, Special Investigations Section. He has more than a decade of law enforcement experience in patrol, field training, and traffic enforcement.