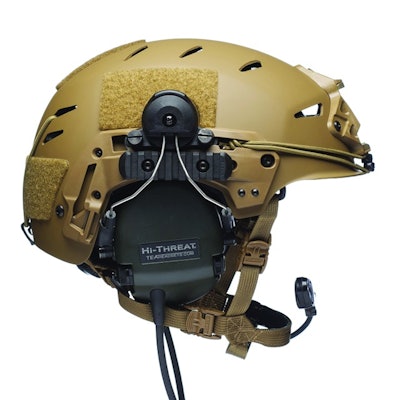 If you've been keeping up with my product reviews you've likely run across a few on Team Wendy's helmets. I've reviewed three of them and have been blown away by each one. In fact, the Exfil Ballistic model still follows me to work every day. I recently got the chance to check out a couple of Team Wendy's accessories for the Exfil line and in the process made my helmet even better.
First up is the Peltor headset adaptor kit. Many modern combat helmets have side accessory rails and the Team Wendy models are no different, although the design of their rails is. While most others feature either a 1913 rail segment or an ARC-style rail, Team Wendy's Exfil 2.0 rail system is unique and requires a proprietary adaptor to mount headset equipment. The set consists of two mounting frames and all the required hardware. To mount the frames to the helmet simply slide the brackets under the rail slots, center to your liking, and tighten the knurled thumb screws. Snap in each side of the Peltor headset and you're in business. The whole process took me less than 5 minutes. Each bracket has an "in" or "out" position so you can move the headset away from your head and take the helmet off. In the "in" position they hold the headset firmly yet comfortably to your ears. No more "under the helmet" hearing protection.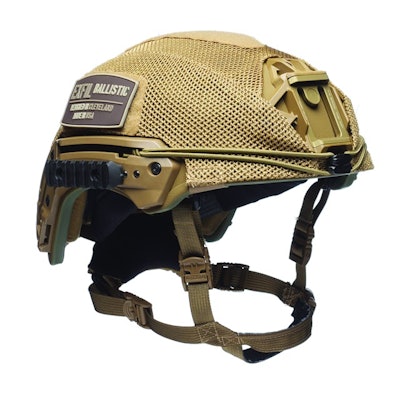 Next up is the Exfil Ballistic Mesh Helmet Cover. My Exfil helmet is black and, while that was great for patrol work, my SWAT Team wears OD green. New helmet? Nope, just throw on a cover. Good looks aside, the Exfil's mesh covers protect the finish from scrapes and scuffs. Considering the sizable investment you've made in your helmet it seems only logical to keep it in good shape. The cover attaches in seconds with four hook and loop tabs that sandwich in between the front and rear foam inserts and features loop panels on the sides and rear for patches. The cover is very snug and actually took a bit of stretching to get it secured, but it looks great and I have no doubt it'll hold up to lots of wear and tear.
To get the most out of your Exfil helmet I'd highly recommend both of these products. Head over to www.teamwendy.com and pick them up for $70 and $55, respectively.
Team Wendy Exfil Ballistic Mesh Helmet Cover
Designed for use with Team Wendy's Exfil Ballistic helmet
Easy installation and removal via hook/loop attachment allows rapid change of helmet pattern, no tools required
Close fitting cover creates a secure fit to the shell that also protects the helmet finish
Loop patches on the cover attach gear or patches to the outside of the helmet
Material: Nylon mesh (MultiCam in polyester)
Colors: Ranger Green, Black, Coyote Brown, MultiCam
Sizes: Size 1 (M/L), Size 2 (XL)
Price: $55 ($60 for MultiCam)
Team Wendy Exfil Peltor Headset Adaptor Kit
Works with all Peltor COMTAC systems
Compatible with Exfil Ballistic, LTP, and Carbon Helmets
Eliminates rigid metal headband, providing better fitment and comfort
2-thumbscrew attachment allows system to be easily adjusted while remaining secure with universal hardware
Open and closed positions allow quick donning and doffing of helmet
Wiring is easily routed in or outside the helmet shell
Price: $70
A.J. George is a sergeant with the Scottsdale (AZ) Police Department assigned to the Technical Operations Unit, Special Investigations Section. He has more than a decade of law enforcement experience in patrol, field training, and traffic
enforcement.