We all pride ourselves on just how resilient we are, citing challenges we have faced and overcome in the past, and listing examples that seem self-evident proof that we can "bounce back" in record time. We recount how, days or weeks after a surgery or an illness or a tragic loss, we were able to do "this or that" as proof of our own resilience, our inner strength. We tell these stories not only to others, but to ourselves to reaffirm that we are, in fact, back from that setback.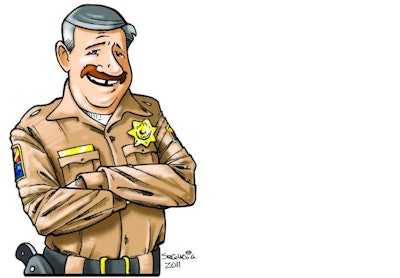 Everyone suffers setbacks in life—from illness to financial, professional, or emotional strife—and that innate ability to recover from these difficulties demonstrates our level of resilience. Quoting Nietzsche seems to have an almost sacred quality when we say, "That which doesn't kill us makes us stronger." This seems especially true when we say it about ourselves and the way we deal with our own crises.
After bouncing back in life a few times we tend to get pretty self-assured about our own strengths…and then along comes a sobering reminder that most of us are pikers when it comes to rebounding from a crisis.
I was asked by my friend and fellow trainer Travis Pugh to teach my class The Winning Mind at the Pennsylvania State Police Academy on January 12, 2015. That day I met Sgt. Bob Bemis of the Pennsylvania State Police; Bob is a gregarious, thoughtful guy who truly loves the law enforcement profession, and is extremely proud of his agency. Two months later I got a call that Bob had been gravely injured in the line of duty, and things didn't look good. But, then, you don't know Bob.
His decision to become a law enforcement officer came early in his life, thanks to various community father figures, and a mom who had her own limitations but would not allow her son to slip into mediocrity. Upon graduation, the Marine Corps offered this high school athlete a direct path into law enforcement if he would agree to a six-year tour of duty. Young Bob Bemis signed on and embraced the Marine way of life; and he didn't just succeed, he excelled. Although he pondered signing up for a second tour, Bob chose to join the Pennsylvania State Police in 1993, eventually becoming a respected trainer and supervisor specializing in officer safety. Bob was known in the agency as a true "servant leader."
Heading home after a training event, Bob stopped to help a motorist whose car was about to burst into flames. He was dressed in his training attire and was not on patrol, but there was no way Bob Bemis could drive past a citizen in need. That decision changed Bob's career, and the very course of his life.
Moments after leaving his police vehicle, Bob was catapulted into the air by an SUV that left the roadway and struck him at a high rate of speed. His injuries were extraordinary. But Bob had a wife, a family, and a career that he loved; he was not about to give up.
In officer survival training, we talk a lot about "resilience." The Bob Bemis story defines what true resilience is. Taking control of his badly broken body and bruised spirit, Bob didn't just focus on physical recovery; he went further, much, much further. He examined his relationship with God, his relationships at home, his motivation to recover, and so much more.
His is the story of not only "coming back," but of "Post Traumatic Growth." It is an epic of how one man fought, not only to get his life back, but to make his life one of quality and fulfillment. It is a story that should be told in every academy, roll call, and law enforcement home. Fortunately, you don't have to take my word for it. You can, and should, read Bob's story yourself in Forged in Scars and Stripes … A Trooper's Victory Over Critical Injury, written by Bob with Michael J. Asken, Ph, D.
Top that, Nietzsche.
Dave Smith is an internationally recognized law enforcement trainer and is the creator of "JD Buck Savage." You can follow Buck on Twitter at @thebucksavage