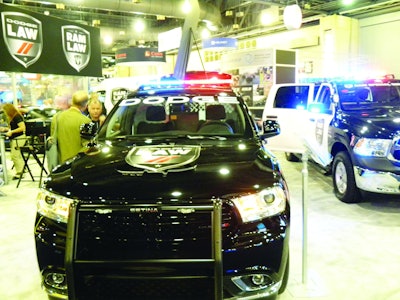 Each year the annual International Association of Chiefs of Police (IACP) conference features an exhibition of the latest law enforcement products with a heavy emphasis on technology and software.
Here's a look at the products that caught our eye at this year's show held in October at Philadelphia's Pennsylvania Convention Center.
Apparel and Footwear
5.11 Tactical showed its Flex-Tac uniforms. The new men's and women Flex-Tac uniforms are made of a polyester/wool blend fabric, feature natural stretch and recovery, resist stains and odors, are fade resistant, and are machine washable.
Elbeco introduced its new Reflex Uniform. The company says the Reflex combines the look of a Class A with Class B ease of movement and comfort. Reflex Uniforms are made with stretch ripstop fabric and Nano Fluid Repellency. Elbeco says the Reflex Uniform will be available in March.
Horace Small showed its DutyFlex uniform. DutyFlex features a Flex-Ripstop-Twill fabric that the company says combines the durability of ripstop with the professional appearance of traditional twill, and offers 14% stretch for comfort and mobility.
Reebok showed its new line of Sublite Cushion Tactical footwear. The line includes a wide variety of styles, ranging from 8-inch boots to Oxfords. Features found in all the footwear in this line include: moisture-wicking nylon mesh, MemoryTech Massage removable cushion footbed, and Sublite EVA cushion midsole with rubber heel and forefoot pads.
Armor
ATS Armor showed its new Concealable Carry Kit, one of the most unusual body armor systems on the market. The Concealable Carry Kit is a T-shirt-style armor carrier that can be worn under a uniform or plain clothes and fitted with NIJ Level IIIA hard plates, or level II or IIIA soft armor in front, side, and rear pockets. The carrier wears like a form-fitting spandex T-shirt.
Patriot3 showed its X-Treme Protection Series (XPS) of wheeled ballistic shields. The base XPS shield offers 28x74 inches of NIJ Level III or IV protection but can expand to 62x74 inches of coverage with optional 18-inch wings. Options include LED lighting, gun ports, and a rolling case.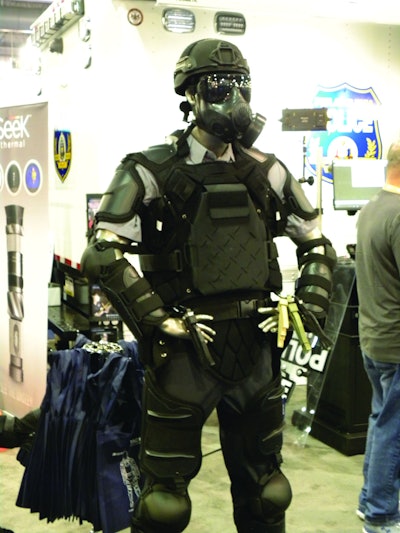 Sirchie showed its new Tac Commander riot gear. The Tac Commander is a system of armor pieces that fit together to adjust to a wide range of body sizes. It's designed for versatility, comfort, and maneuverability. The suit is sold as one unit, from shoulder to feet covers, including the incorporated duty belt. It comes with a mesh carry bag that allows for airflow to keep the suit inside clean and odor-free.
Miscellaneous
FirstNet announced at IACP that 30 states and territories have opted to join the first responder cellular data and voice network. Officers and agencies in the participating states and territories (see list at www.firstnet.gov) can now sign up with AT&T to use the FirstNet network.
Hurst Jaws of Life showed the StrongArm portable hydraulic power tool. The StrongArm cuts, lifts, and spreads, replacing a number of single-purpose hand tools such as crowbars and Halligan tools. Compact and with a weight of 25 pounds, the StrongArm is designed to quickly breach building doors; pry open car doors; and cut 3/8-inch rebar, grade 43 chain, and 2X4-inch wood.
Jamar Technologies brought its Radar Recorder, a speed enforcement tool that captures traffic speed data, to IACP. Jamar says the recorders are portable and easy to install. A Bluetooth option downloads data remotely from an officer's vehicle. The recorder's data can be displayed in the Speed Enforcement Evaluator, a single page report that graphically shows whether the covered area has a speeding problem.
MT2 discussed its firing range services. The company specializes in helping law enforcement agencies and other customers operate and maintain firing ranges. Services includes patented lead dust remediation and lead removal and recycling.
Spacesaver showed its line of evidence lockers, including the short-term evidence lockers. The short-term evidence lockers allow officers to deposit evidence any time, without the need for keys or combinations. Options include built-in refrigeration and a variety of shapes and sizes.
Software and Hardware
Cognitec showed it facial recognition software FaceVACS-DBScan LE. FaceVACS-DBScan LE lets users scan live streaming or recorded video and perform real-time comparisons to image databases and watch lists. Cognitec says the product can be used for anonymous face recognition to compute people analytics.
Ekin brought its Ekin Patrol G2 LPR system to IACP. The Ekin Patrol G2 is a mobile LPR system that can cover as much as 360 degrees, up to five lanes, and more than 100 vehicles simultaneously. The system is managed by the Ekin Red Eagle centralized traffic system.
Leonardo introduced the ELSAG Plate Hunter F3. This fixed LPR system features power over Ethernet (PoE) connectivity, LED illumination, and built-in processors. The Plate Hunter F3 has an embedded cellular modem for data transfer and remote access.
PredPol showed its predictive policing software. This analytics tool generates predictions that can be used to deter crimes, including property crimes, violent crimes, gang activity, and gun violence. It can also be used to predict traffic accidents.
PowerDMS brought its law enforcement policy management solution to IACP. The company says its solution provides secure online storage, management, and distribution of policy documents. PowerDMS also is a tool agencies can use to develop online training programs. www.powerdms.com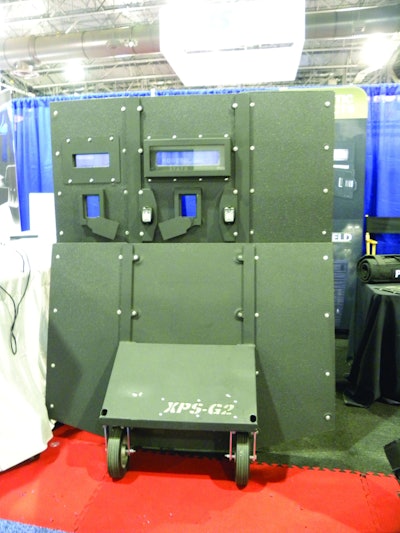 Priority Dispatch showed its Police Priority Dispatch system. Features of this 911 call-taking software include: logic-based selection of dispatch codes, pre-arrival instructions to callers, post dispatch instruction to callers, and constant flow of information with active updates to responders.
Saltus Technologies showed its DigiTicket electronic ticketing solution. The DigiTicket software runs on mobile devices and laptops. The system works with a variety of printers and scanners.
Spillman showed its Flex integrated software suite that the company says seamlessly combines Records Management Software (RMS), Computer-Aided Dispatch (CAD), and Jail Management (JMS). Flex also provides users with multi-jurisdictional data sharing capabilities.
TBL Systems showed its e-citation, mobile reporting, and digital evidence tools for the iPhone and iPad. Modules include DUI reporting, crash reporting, and investigations reporting. The system is used by traffic units, patrol officers, motor units, foot patrol, bike units, and harbor units. The company also announced that its software is being used in the Ford Integrated Computing system for law enforcement vehicles.
Tyler Technologies announced it is collaborating with Samsung to develop wearable smart device applications that will integrate with its New World public safety software. The initial wearable device will be the Samsung Gear S3, which is Samsung's newest smartwatch and is compatible with most Android smartphones. Providing a wearable device helps improve access to mission-critical information for first responders without adding to the bulk of the devices they are already required to carry, the company says.
Vigilant Solutions had one of the biggest announcements at this year's IACP. The company, which is best known for license plate recognition and facial recognition systems, has developed a new product designed to provide law enforcement agencies with faster and more efficient cartridge case analysis. BallisticSearch includes portable image capture hardware, cartridge case capture software, and ballistics comparison technology. The solution enables agencies to quickly compare evidence from crime scenes to help generate more investigative leads and potentially identify more suspects and the firearms they use.
Zetx showed its Scan Suite for forensic analysis of cellular networks. Features of this solution include automatic channel detection, mobile network scanning, and cell position estimation.
Vehicles and Accessories
Code 3 introduced the Chase dash and deck lights. The Chase offers 69 flash patterns with LED colors of red/blue, red/white, blue/white, and amber/white. Chase dash and deck lights are synchronizable to Code 3's Chase, MR6, Mega Thin, and M180 families.
Dodge showed the new 2018 Durango Special Service Vehicle. Available with a 3.6-liter Pentastar V6 or a 5.7-liter Hemi V8, the Durango SSV features an 8-speed transmission and is available in all-wheel drive.
www.fcausfleet.com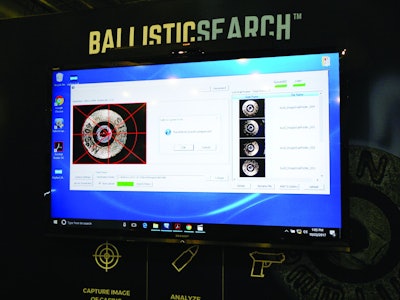 Ford showed its pursuit-rated pickup truck. The new 2018 F-150 Police Responder is based on the F-150 SuperCrew. It's powered by a 3.5-liter EcoBoost four-valve V6 engine that produces 375 horsepower and 470 foot-pounds of torque. The engine is matched with a 10-speed SelectShift automatic transmission for onroad and offroad performance. Top speed is 100 mph.
Rockland Custom Products showed its line of tactical vehicle accessories, including weapons and equipment drawers. In addition, the company makes lighted grilles for law enforcement vehicles.
www.rocklandcustomproducts.com
Whelen featured the Ceridian Series law enforcement vehicle lighting system in its booth. The Ceridian has a low-profile design and laser-etched, opaque-colored domes. Available options include a center speaker and lighted signs. Ceridian lighting systems are available with Whelan's Solo, Duo, or Trio Linear Super-LED technology.
Video
Coban Technologies showed its line of in-car and body-worn cameras. The company says its H1 in-car video system uses artificial intelligence-based analytics to identify vehicles and other objects and alert officers. The H1 integrates with Coban's Focus X1 body-worn camera. Features of the Focus X1 include 12-hour battery life; remote triggering through vehicle sensors such as light bar, doors, or siren; and fast recharge.
Digital Ally introduced a new version of its VuLink system that lets users of Digital Ally and now Vievu body-worn cameras establish wireless automatic triggers between their vehicles and body-worn cameras. Examples of triggers that can be set up using VuLink include siren activation, door opening, and vehicle speed. Features of the new VuLink Pro include all of the capabilities of the original VuLink plus: mobile data terminal video review, video tagging and notation in VuVault Go, in-car camera charging, wireless transfer of body camera files to Digital Ally's VuVault evidence management system, and synchronized video playback.
L3 Mobile-Vision introduced the BWX-100, a new body-worn camera with built-in WiFi, Bluetooth, and GPS. The BWX-100 features solid ergonomics, including one-touch recording, tactile controls, and LCD text display. Users can review and tag recordings via a mobile iOS or Android app. The BWX-100 also offers bi-directional triggers so that L3 in-car videos trigger the BWX-100 and the body camera also triggers the in-car systems.
www.mobile-vision.com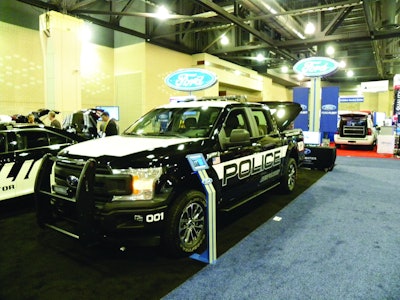 Panasonic showed its new Arbitrator Body Worn Camera Mark III. The third generation of the Panasonic BWC offers 12 hours or more of battery life in standard configuration, increased durability, and enhanced compatibility with other Panasonic evidence capture systems such as in-car video and surveillance cameras. The BWC can be set up to automatically begin recording when the light bar on the wearer's vehicle is activated, when the wearer's vehicle experiences a certain amount of G-force, when the vehicle's weapons lock is released, and under other conditions.
Reveal showed its D-series body-worn cameras, the D3 and D5. Both cameras offer articulated camera heads, one-touch record, AES-256 encryption, 12-hour battery performance, low-light performance, and ruggedized casing. The D5 offers additional memory, live streaming, GPS, Bluetooth triggers, and WiFi connectivity.
Safariland Vievu announced a partnership with Digital Ally for an exclusive distribution agreement of Digital Ally's patented VuLink car-based auto-activation system. The VuLink can now activate Vievu LE4 and LE5 body-worn cameras. Vievu also showed its new LE5 system, which features Bluetooth and WiFi connectivity and CAS holster-camera auto-activation. Features of the LE5 include 12 hours continuous recording time, selectable field of view (75, 95, or 120 degrees), and covert mode. Vievu also introduced a new system for mounting its body-worn camera, the ClipLock. This mounting system offers wearers four mounting options, including spring clip, uniform clamp, hook-and-loop clip, and magnet clip.